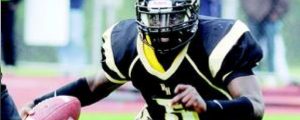 Just last month it looked like Syracuse recruit Ashton Broyld may have been fighting a position change at Milford Academy. Now, according to the stats on Milford's website and quotes from his head coach, Broyld is not only still playing QB, but he is doing so exclusively. As Vince Lombardi once said: "what the hell's going on out here?!?"
According to coach Bill Chaplick, Broyld is only playing under center for Milford this season. He's part of a 3-man rotation at QB and Chaplick says:
"When we put him in there we know we're going to run."
Which is confusing in itself since Broyld has thrown 42 passes compared to 24 rushing attempts. Nevertheless, he's been effective doing both. Through the air, Broyld has a 5-to-1 TD/INT ratio, while averaging nearly 12 yards/carry on the ground and reaching the end zone another 5 times. Ten scores in five games? Not bad, kid.
So what does SU do with Broyld? If he'Äôs going to be efficient as a passer with a high yards per completion, more TD'Äôs than INT'Äôs and a dynamite threat to run, why wouldn'Äôt he stay at quarterback? John Kinder has impressed in practice and Terrell Hunt has a year in the system that Broyld will never get back because of grades and an inability to keep his pants on at a basketball game. It's a small sample size, but if Broyld proves at Milford he can be a dual threat and Ryan Nassib stays healthy, when Nassib finally graduates Broyld wouldn't be at such a competitive disadvantage.
Milford's man in charge seems to know what he'Äôs doing in assigning positions (or is really good at following Doug Marrone's suggestions). Chaplick was the one who switched Dyshawn Davis to defense at Milford. Davis is now starting for SU in his first year and has showed flashes of brilliance. Chaplick is sticking with Broyld as a QB. Clearly there is something there.¬†Patrick Newell covers the team for The Evening Sun and tells The Fizz Ashton's talents are evident.
"From what I saw, Broyld was elusive in the open field, he showed nice touch on the short passes, and was able to connect on his only deep throw (of the game) 'Äì a touchdown pass."
Unfortunately extensive information is limited for Milford's games, so we have to take Chaplick'Äôs word that Broyld is playing exclusively under center. But he has no receiving or defensive statistics over the first five games. Looking back at Broyld'Äôs high school tape, it's obvious he's incredibly shifty for someone of his size, but his arm isn'Äôt anything spectacular. He does make some nice throws and has above-average legs, but lacks elite breakaway speed.¬†That's mostly in line with what Newell has seen so far.
"I am not sure of his overall arm strength since he was not required to throw any deep 'outs' or stick throws, but he is a fine athlete.  I asked him in a preseason interview who he most resembles, and he said Donovan McNabb more than Michael Vick."
That being said, the guy was the New York State Player of the Year. He just flat out produced in high school and has started this season off by doing the same. The concerns Broyld might never even see the Hill have been put to rest for the moment. The climb back to Syracuse for Ashton is hopefully underway.
Posted: Craig Hoffman
(adsbygoogle = window.adsbygoogle || []).push({});