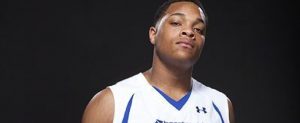 Dajuan Coleman says his decision might come in a little over a month, and his believes the potential to play with a high school buddy might keep him in Central New York. DC 2.0 is one of the most highly sought after recruits in the country and happens to play basketball right in Syracuse's backyard. The competition is fierce and Coleman's final three of Kentucky, Ohio State and SU all have plenty to offer.
The Fizz spoke with Coleman, who told us he has a good idea when he will make his decision:
"Hopefully I'm gonna make it by early November, that's the plan."
Coleman had a busy summer playing in several AAU Tournaments against the top competition in the country. DC 2.0 was noticeably slimmed down from the spring, something he says he worked on.
He's clearly getting prepared for the college game, something his high school coach, Bob Mckenney echoed:
"He's becoming more of an all around player. You're starting to see more facets of his game. His ball handling is improving and he's starting to be comfortable taking the ball up. He's looking for his perimeter jump shot more and he is still a dominant force in the paint."
Coleman had his in-home meetings with both Kentucky and Ohio State, but don't be alarmed Orange Nation. He will have a visit with the Orange very shortly. Coleman knows SU very well.
"My thoughts on the Orange are real big, they've been here since 7th grade recruiting me real hard and my thoughts of them are real good."
Coleman has mentioned that Syracuse has been recruiting him since 7th grade on multiple occasions, so clearly that's important to him. Another factor that could play a role in his recruitment is former high school teammate Brandon Triche. Despite Triche saying it wasn't his job to recruit Coleman, Mckenney believes that could be a factor:
"He really enjoyed playing with Brandon. He's talked with me about how fun it would be to play with Brandon again, so maybe it could play a role."
Coleman will head to Lexington for UK's version of Midnight Madness in a few weeks and has plans to visit Columbus and the Hill as well. With Jerami Grant as the class' only commit and DC 2.0 in the backyard, it can'Äôt be overstated how important Coleman is to Syracuse. He's been one of SU biggest targets for more than five years now. Will the hard work pay off?
Posted: Alex Plavin
(adsbygoogle = window.adsbygoogle || []).push({});