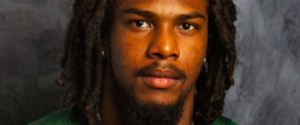 The Fizz has spoken to Syracuse's Max Beaulieu about his much-discussed position change to tight end and he admits he was surprised. We¬†recently¬†analyzed why¬†Beaulieu'Äôs lack of development as a defensive lineman and subsequent position change were so enormously disappointing. Beaulieu was the top dog in the SU recruiting class of 2010. Now, a year and a half later, he'Äôs on the opposite side of the ball.
Follow The Fizz on Twitter for live SU football updates
One promising tidbit¬†The Fizz noticed was the coach's optimism about Beaulieu'Äôs impending adjustment. Doug Marrone seemed confident his player could handle the change, and appreciated Max'Äôs attitude.
"Max is a very good athlete. He's extremely smart, extremely willing and we've had him out there and he's done some nice things and is picking things up well."
Although we trust Coach Marrone's word, The Fizz still couldn't resist checking things out for ourselves. We caught up with Beaulieu and asked him how his position change was really going. First of all, the move did take him by surprise.
"I didn't think it was ever going to happen. But Coach Marrone came to me and asked me if I wanted to help the team out. So I was like, 'Sure, I'll do it.'"
Is Beaulieu disappointed he no longer has the chance to be the next Dwight Freeney? Perhaps momentarily, but now it seems that he's moved on. The Fort Lauderdale product is refreshingly confident about his intellect, and his ability to learn the offensive playbook.
"Learning the playbook wasn't really an issue because, not to toot my own horn, but I'm a smart kid and I pick up on things pretty well. It's just about studying and making sure you get everything."
It also helps that the 6-foot-3, 240 pounder has some prior offensive experience.
"I played a little tight end in high school but it was mostly blocking. I'm not used to the whole catching thing yet so that's one thing I gotta get adjusted to."
One would think Beaulieu has at least a season to adjust to pass-catching before he sees the field, but he's eager to enter the fray this year.
"We have two tight end positions, the Y and the F, and right now I'm the backup F (behind David Stevens), so hopefully I get some playing time in the later quarters of the game. I'm just looking forward to playing and helping the team out."
The F-tight end is more of a blocking position than the Y, so it looks like the coaching staff is attempting to use Beaulieu's defensive lineman-type body as a physical weapon on offense.
Based on how things turned out for NFL-bound Doug Hogue and Derrell Smith, as well as Adam Harris, who all changed positions, Beaulieu knows it's very possible for him to turn his switch into a success story.
"I've seen a lot of players transfer from one side of the ball to the other and do good things. So I'm hoping for the same for myself and I'm just taking the coaching real well and trying to get everything done."
Only time will tell if the former defensive line prospect ends up making a name for himself at an alternate locale. But maybe we'll get early indication on Saturday if Beaulieu appears toward the end of Syracuse's probable blowout victory against Rhode Island.
Posted: Andrew Kanell
(adsbygoogle = window.adsbygoogle || []).push({});