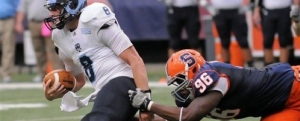 While most Syracuse fans left the Carrier Dome dissatisfied after a
close victory over a mediocre FCS school
, there were silver linings that popped up Saturday night. The Orange defense has come under plenty of scrutiny after losing talent and leadership from last season. But there were a few grins on the faces of SU coaches, as the Orange
proved to have some impact players
in the linebacking corps.
Follow The Fizz on Twitter for live SU football updates
Featured were freshman Dyshawn Davis, and sophomore Marquis Spruill. Combined, the pair recorded five sacks on Rhode Island QB Steve Probst. Doug Marrone must have enjoyed seeing Davis assume a position of leadership (despite being lost to cramps) alongside his more experienced counterpart, senior Dan Vaughan (6 TKL vs. URI, 11 on the year).
In the too-close-for-comfort win, the Orange D did take a successful stab at the 3-4 blitz formation. The primarily young SU defense came up big late, pitching a scoreless fourth quarter. The defense's late stops helped make up for the Orange's pedestrian offensive numbers, slow start and some self-inflicted wounds.
The SU defense forced Probst and the Rams' offense to essentially rely on one pass play all night; the bubble screen, a short pitch to the sideline tight end, which was usually met by quick defensive coverage from Mikhail Marinovich. This forced a unique situation, where Probst took the initiative to run the ball more than once, putting up 46 yards on 15 carries.
The young defense also showed its ability to adapt. Rhode Island finally picked up on the blitz formation,  and adjusted by handing the ball off to quick, agile RB Travis Hurd. In an instantaneous response, the Orange defense spread out its formation into a zone coverage setup.
Davis' injury looked worse than it apparently ended up being. After being pile driven to the ground by three Rams, and helped up by two trainers, SU declared it a case of cramps midway through the game. The linebacking unit is young, but improving on the fly. With a trip to USC looming, plus the injury of stalwart Chandler Jones to cope with, the win over Rhode Island was another step forward in the development of a fresh-faced defense.
Posted: Jake Moskowitz
(adsbygoogle = window.adsbygoogle || []).push({});