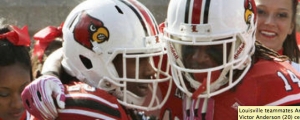 The Orange handed in another offensive stinker and the good vibes and optimism of the win over West Virginia dissipated into the Louisville air. Everyone was concerned about a Syracuse letdown after one of the most emotional victories of the past decade last Friday
(read our pregame story below)
. But it was clearly the Cardinals who delivered the intensity, feeding off a pregame appearance from their fallen teammate Anthony Connor.
Follow The Fizz on Twitter for the latest SU football news
The 27-10 loss brought to light two unmistakable truths: For as much as we'd like to believe SU has turned the corner, it seems always poised for enormous letdowns. And Doug Marrone cannot beat the Cardinals. The Dougie is now 0-3 vs. UofL, and all three defeats were gut punches to the Orange season.
Last year, SU rebounded to win the Pinstripe Bowl, so all is not lost. But an ascending Orange squad was supposed to jump on Louisville and take the fight out of an immature and youthful team. Instead, it was the Cardinals who delivered the big plays early and Ryan Nassib who regressed once again. Young Teddy Bridgewater created huge gains (including the opening 42-yard throw to begin the scoring). Nassib had trouble moving the ball all day, finishing with just 162 yards (even with SU was playing catchup all game).
Listen to Fizz Radio Saturday mornings on the Score 1260/theScore1260.com
The good news is Marrone has continually found ways to dig up wins when things looked bleakest for Syracuse, so the season has plenty of potential left. The bad news is SU has not turned the corner we had all hoped. The Orange is still a team with greatness in it, but a failure to completely harness it.
Posted: D.A.
* * *
Syracuse is coming off one of the biggest wins of The Dougie Era and now has to avoid its biggest flaw.
The 49-23 destruction of West Virginia
was both brilliant and unexpected as the Orange
dominated the Mountaineers
, moved to 5-2 and received votes in the polls. With the weakness of the Big East, fans are starting to dream BCS which actually seems entirely possible. But SU has shown a recent tendency for letdowns after big wins.
Last season, the Orange got smoked at the Dome 45-14 by Pitt following the energizing win at USF. SU beat #19 WVU and Cincinnati on the road consecutively, then lost a stinker 28-20 to Louisville. In Marrone's first year, Syracuse enjoyed it's only Big East win over Rutgers and then was pummeled 56-31 at UConn in the final game of the season.
Marrone has often spoke about the concept of managing success and he addressed it this week:
'ÄúIt starts with me. I gotta tell the players it'Äôs behind us now. I know what it'Äôs like to win a big game on this campus and walk on the quad and in class people tell you how great you are. Like I told the players, 'we'Äôll celebrate the success.' We had an opportunity to celebrate for a short time, we need to move on and after the season'Äôs over we'Äôll look at it and celebrate the success we'Äôve had.'Äù
The Orange now must focus on avoiding a hiccup against Louisville, a team that has lost to Florida International this year. Many were doubting the Orange just a week ago, but after watching the performance Friday
bigger things must be expected
.
Last year it seemed each huge win was followed by a dissappointing loss, every big step forward quickly followed by a step back. SU suffered ugly home losses down the stretch. The Orange had the same 5-2 record last year with many thinking BCS, but let the league slip out of its grasp.
Players brushed off the letdown as a non-issue. Ryan Nassib echoed his coach:
"We did a good job of forgetting last week. We'll look back at the end of the season, but we understand we have to come out ready for this game just like we got our butts kicked last week. We need to have the same mentality and still come out firing, because once Monday comes it's a totally different beast."
However, Syracuse has struggled with playing down to the level of competition on several occasions and grinding out what should be easy wins (URI, Toledo, Tulane). The hallmark of a good team is one that takes care of business when it's supposed to. Against a freshman QB and struggling Cardinals offense, Syracuse has a chance to take yet another step forward.
A big key for SU will be matching the early intensity of the Cardinals. They saw a teammate horrifically break his neck on the field last week and will no doubt be charged up playing at home in their fallen teammate's honor. The Orange simply can'Äôt afford a slow start, because Louisville is going to try and make it an ugly slugfest, something SU wants to avoid.
Syracuse has made huge strides under Marrone, but consistency isn'Äôt yet one of them. For the Orange to make that next jump it starts with taking care of business on the road. It's time for Syracuse to make the next leap as a program.
Posted: Alex Plavin
(adsbygoogle = window.adsbygoogle || []).push({});