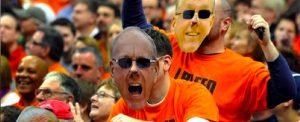 The Fizz has taken the next step in having an SU dining hall named after us: the launch of a fully operational weekly radio show. Saturday mornings from 9a-10a, Orange Fizz Radio takes over the airwaves on The Score 1260 in Syracuse. Download every episode of Fizz Radio on iTunes.
Listen to Fizz Radio's Episode #4:
01:00: SU football has plenty to work on
10:45: SU hoops recruit Amile Jefferson's coach Jason Polykoff
18:30: Can the ACC move bolster SU's basketball recruiting too?
25:45: Is SU hoops worthy of the preseason expectations/hype?
35:00: Fizz Feedback on whether to burn redshirt of Ameen-Moore
38:00: WVU's critical comments on SU's move to to the ACC
40:45: Antwon Bailey's ball security and durability
Every episode of Orange Fizz Radio will be available the same place on iTunes the FizzCast was. It's completely free to subscribe, and if you do so each episode will be automatically uploaded. For those outside the listening area, you can also stream it at TheScore1260.com. The often-imitated but never-duplicated Orange Fizz Radio. Like The FizzCast – but now with a bigger stick.
(adsbygoogle = window.adsbygoogle || []).push({});