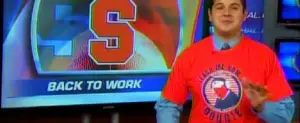 You know The Fizz's "Teach Me How To Dougie" shirts are worthwhile when they're featured on their own segment via CNY Central. Sports reporter/anchor Niko Tamurian did a story on the fresh new threads for Orange football fans. He even rocked one on set, which you have to love. You just know Matt Mulcahy and Jackie Robinson were doing the Dougie when they went to commercial. I feel like Jackie probably breaks out and starts doing the Cabbage Patch after she totally nails a story. Here's the origin of the shirt idea.
I'm not so sure how The Fizz staff came off in that piece. I'm the faceless voice, like an alien abductee with his head shadowed. Hoffman can't stop peering directly into the camera lens, as if he's trying to pierce your soul. Hell, I'm sure there was more than one viewer going, "Damn, the shirts are slick. But, those guys seem weird." Luckily for you, we teamed with reputable Bottom Line Apparel, to print and sell the goodies. Because Team Fizz is weirdos.
Order one NOW so you have it in time for the West Virginia game Friday night. We want to see you doing the Dougie's with that bright orange cartoon face on ESPN!
Posted: D.A.
(adsbygoogle = window.adsbygoogle || []).push({});