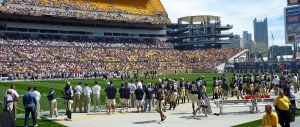 After a four game losing streak, Syracuse will have its fifth and final opportunity to become bowl eligible on Saturday at Pittsburgh. A month ago, no one could have seen this coming when the Orange was sitting at 5-2 and coming off a blowout win against a ranked West Virginia team, and in position to contend for the Big East title. 
Since then, SU has lost four straight conference games by an average of more than two touchdowns, leading to potentially the low point of the Doug Marrone Era. The Dougie knows his team has no one else to blame for the current situation.
"Being here today, obviously it's an unfortunate situation we're in.  It's one that we put ourselves in.  Obviously, we're making mistakes when we play.  We have to do a better job coaching; we all have to do a better job. It starts with me, the coaches, the players.We've left some things out there on the table, and when you look back it hurts."
While it's difficult to pinpoint exactly where things went wrong for the Orange, The Dougie describes it adequately when he says 'Äúwe all have to do a better job.'Äù¬† The coach has tried to take most of the blame on himself, but his players have plenty to answer for too.¬†During the four game slide, Syracuse has played poorly and made critical mistakes in all three phases of the game, so the everyone in the locker room has to take accountability.
'ÄúI'Äôm not gonna be up here giving people excuses… we'Äôre in a hole, and we put ourselves in a hole, and we'Äôve got to dig our way out of it.'Äù
If there is any good news, it's SU still has one last chance to get things right, and avoid the disaster of going home for the holidays and sitting on a five-game collapse for an entire offseason.
"We have a game left. It's an important game against a good football team that's in a similar situation as far as their record. Obviously it's an important game, because it's a game that, if you win, you get to play another game."
Not necessarily. The Orange could win this game and still be without a bowl destination. But Marrone is trying to keep the carrot in front of his team. SU has shown little evidence over the last four games it'll be able to turn things around in time to salvage the season. The Dougie's team has been embarrassed its last two games at the Dome, and seems to be limping towards the season's end with little fight. But maybe, just maybe, Marrone can rally his troops to play one last inspired game in a do-or-die situation. 
"We have to keep pushing, and get over the top, and this has to be our best coaching job, and our best performance on the field that we've had all year coming up this week."
Winning on the road as a double-digit underdog against a team also facing a win or go home scenario is a tall task for any team, but this is the situation Syracuse has put itself in. If SU can't find a way to turn it around this week, it will be an early start to a long offseason for the Dougie and the rest of Orange Nation.
Posted: Steve Neikam
(adsbygoogle = window.adsbygoogle || []).push({});