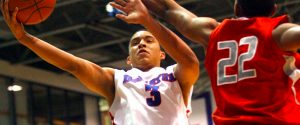 As Syracuse attempts to stabilize after the Bernie Fine allegations, other Big East squads are having a friendlier month by snagging big time recruits. Villanova officially signed C Daniel Ochefu ten days ago to accompany Ryan "Arc" Arcidiacono, giving the Cats two top 100 recruits. The following afternoon, Pittsburgh added James Robinson to its class, taking his spot next to Steven Adams, the promising center from overseas. Here's a deeper look at the always flowing talent stream for next year's Big East:
James Robinson/PG/Hyattsville, MD
DeMatha Catholic High School
Signed: Pitt
Height: 6′ 3″ Weight: 195
Robinson is technically the highest rated Pitt recruit, since Adams is ineligible until he finishes a second year at an American high school. He scores a 94/100 and is the 48th best player in the class according to ESPNU. JRob is also the 6th best point guard among recruits. He is "one of the true floor generals in the class" according to Scout.com. Film on Robinson shows his excellent perimeter and mid-range play, as well as his precise dribbling skills and accurate passing. What he lack's in quickness and paint presence, he makes up for in leadership and ball movement. ESPN's scouts on Robinson:
"In a lead guard, you look for a kid who has pace, patience and smarts to his game. Robinson doesn't make a lot of mistakes and sees the floor well. He's not a guy who is prone to forcing and will finish straight line drives. [His] jumper keeps defenders honest. You can trust him to run a team and he's coachable. Other players will be in scoring position when he's on the floor."
Daniel Ochefu/C/Westtown, PA
Westtown School
Signed: Villanova
Height: 6′ 9″ Weight: 225
Ochefu committed back in March. With him, Villanova challenges Syracuse's dominance in the pivot. Ochefu has a great post presence on offense, and can score from farther away too, with a shot range up to 17 feet. He's also a solid defender, with great shot-blocking skills, and has good knowledge of big-picture defensive schematics. Scouts say he displays point-guard like passing prowess and does well in space:
"Ochefu is a true post with great size and good skill. He can score in the post and face where he is very affective in the mid wing areas off the catch or with a couple straight line dribbles. He is an excellent passer under stress for a post and good decision maker. Ochefu is a good area rebounder on both ends as well. Ochefu has tremendous upside and could be an immediate impact player on the college level."
Elijah Macon/PF/Columbus, OH
Huntington Prep
Signed: West Virginia
Height: 6'8″ Weight: 210
As Fuccillo's commercials say, this guy is 'UGE! At 6'8″, he has a center-like build with point-guard quickness and savvy. He makes an otherwise mundane recruiting class excellent for WVU. Macon is athletic, explosive to the basket, and has a great shot. He's an all around top of the line player, and is going to be a dangerous matchup. Scouts say Macon uses his size to his advantage, but could fill out his tall frame with a little more mass:
"Macon is a physically gifted player with a soft touch but he needs to get stronger and a little nastier inside before he can put his wide variety of tools to their best use."
While the future of the Big East is shaky, it hasn't slowed the influx of top end basketball talent.
Posted: Jake Moskowitz
(adsbygoogle = window.adsbygoogle || []).push({});