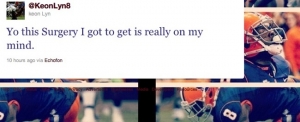 Update: 7:41p. Keon tweeted earlier this afternoon that there's nothing to worry about.  "I'm not going nowhere! Idk why y'all would think I would be leaving #CuseNation for life." Sigh of relief for SU fans, who didn't need any other bad football news after the way the season ended.
* * *
Sounds like Keon Lyn is set to get surgery, and some are worried he may be rethinking his decision to come to Syracuse. Is the sophomore corner upset by his one-game suspension to end the season? Last night, Keon's Twitter raised a few eyebrows:
"Yo this Surgery I got to get is really on my mind."

'ÄúWhy did I have to come to Syracuse? Why? I messed up something so good! Promise I'm gone fix that'Äù

"People are never satisfied. But I bet they are when things are gone."

"Moves need to be made. Goodnight."
His reflective tweet about coming to SU looks to have been deleted. We don't know if the surgery is football-related. Maybe he's just frustrated by normal college student problems: finals week, girl trouble, etc. We don'Äôt know.
We do know Doug Marrone reinstated Lyn to the team after the Pitt game, saying that the one game suspension would be all the punishment he'd serve for conduct detrimental to the team.
This tweet alone certainly isn'Äôt enough to fire up the 'ÄúKeon Lyn wants to transfer" rumor mill, but it sounds like there's a lot on Lyn's plate right now.
To be fair, lovesick college athletes tweet incessantly about their girls back home. This could be all Keon was talking about. But Twitter has a history of causing some angst for Syracuse fans (re: Waiters, Dion). Hopefully, @KeonLyn8 is just be a teenager overwhelmed by life right now.
"Dealin wit 2 much ish at once <<<"
It appeared by the end of the night, Lyn was downplaying the importance of his tweets:
"I say somethin & ppl gone make it bigga then wat it is ppl b all n my business but cnt blame dem" 
While you never want to read too much into a teenager's social media missives, it goes up the food chain when one of SU's most talented defensive players is tweeting about how badly he 'Äúmessed up'Äù by coming to Syracuse and letting everyone know he's going to have surgery.
It would be a shame for Lyn to be unhappy at SU. Secondary depth is a huge concern for the Orange, and Lyn represents a rebuilding of the all-important Florida pipeline for Marrone. We'll assume for now there's nothing to be worried about. But for late-breaking news, you can always follow Keon on Twitter.
Posted: Steven Neikam
(adsbygoogle = window.adsbygoogle || []).push({});