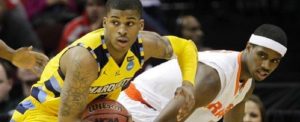 Syracuse's most obvious motivating factor was payback yesterday, after losing to Marquette twice last season, including in the 2nd round of the NCAA tournament. And revenge was sweet.
You have to love the way the Orange handled the Eagles. SU jumped out to a dominating lead, seizing the momentum and energy of a raucous Carrier Dome. While MU never gave in, Syracuse closed like a championship caliber team. Give Marquette credit. Every time it looked like Syracuse would coast to an easy victory, the Eagles would drain a big shot, or come up with a strong defensive play. 
But the Orange is just too deep, playing too well, and has too many big time moments to rattle right now. When the Eagles cut a 23-point lead to just two with 5:00 to play, a different SU team might have been shaken. But on a squad where Orange fans merely wait for the next guy to step up, there's never real panic. This day it was Brandon Triche and C.J. Fair who poured in a combined 29 points, and SU made enough plays to win.
The Eagles were game, as will many of the Big East teams Syracuse will face. As the UConn and Louisville losses show, this is still am extremely competitive and ferocious conference. But now at 17-0, we have to again ask: "How long will they stay undefeated?"
A look at the schedule lying ahead would lead you to answer that SU may remain undefeated and #1 for awhile. It's not unreasonable to believe the Orange could roll into a two-game stretch with Georgetown and Connecticut still undefeated Рand that would be February 8th. If you're counting at home, that would put SU at 24-0 with seven regular season games remaining.
Before you say we're getting too far ahead of ourselves, consider two things: how unbelievably consistent this team has been so far, and the Big East schedule might not be quite the grind it has been.
This week's upcoming trip to Philadelphia, which is normally one of the major tests of the season, seems awfully less daunting with the Wildcats off to a 7-8 start overall, and 0-3 in Big East after getting embarrassed by South Florida on their home floor.  That January 16th date with Pittsburgh is a bit concerning given Jamie Dixon's track record against the Orange. But the Panthers also sit at 0-3 in Big East play and ride a four-game losing streak, the longest of Dixon's tenure. There's also a two-game road trip to Notre Dame and Cincinnati, but neither of those teams is really considered part of the Big East's upper echelon.  
The schedule actually opens up nicely for the Orange actually. Syracuse has every reason to believe its record can remain unblemished for another month.
Marquette presented the toughest test the Orange may face for a month. Syracuse passes it, and Orange Nation may want to start getting comfortable in its perch at #1.
Posted: Steve Neikam
(adsbygoogle = window.adsbygoogle || []).push({});