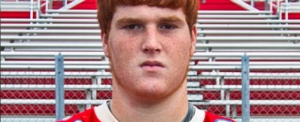 Is Syracuse recruit Joseph Scelfo holding out for a Georgia Tech offer? It seems that way. If nothing else the offensive lineman from Bogart, Georgia is waiting another week for bigger schools to offers. Then he says he's closing the door. "Nasty Joe" has some options on the table already (like SU, Southern Miss, and UAB), but a show of faith from his hometown school is the biggest thing missing on his list with Signing Day less than a month away.
The 6-foot-2, 276 pounder has played offensive guard, but has worked at center and believes that may be where he fits best in college. Scelfo tells The Fizz that he's not waiting on Tech, and understandably could be losing patience with the Yellow Jackets.
"If they want to offer me then they can. It's been a while Рthey've been following me since my sophomore year, and they still haven't offered. I don't really know what they need to see from me."
In the meantime, the Orange remains high on Scelfo'Äôs list. He's told The Fizz the move to the ACC has definitely made SU more desirable. SU initially showed interest in him because¬†Recruiting Coordinator Greg Adkins previously coached with Joseph'Äôs father, current Falcons Tight Ends Coach Chris Scelfo. He says he'll likely visit the Hill before Signing Day.
"They're up there. I think I'm going to take an official there this month. If everything works out I'll take one there and see how it goes."
There's no doubt Syracuse is still in the picture. After all, SU is the strongest school to offer Scelfo a scholarship thus far.
But overall, the lineman's recruiting picture is very murky. He told The Fizz back in September his recruitment was wide open, and it sounds like not very much has changed since then.
Scelfo couldn't even say with much assurance where he'll take his official visits. He's visiting Louisiana Tech this weekend, but beyond that, he doesn't know for sure where else he'll tour. He wants to visit at least four different campuses, and plans on visiting Syracuse, but again, that's "if everything works out."
Eventually, the conversation with Scelfo turned back to what he's waiting for, rather than what he already has.
"With the bigger schools coming in now, I'm going to give it a week. Then after a week we'll see what comes in and then I'm going to stop there. Anyone else who comes in, I'll tell them that they waited too late."
UCLA is a bigger school that might offer him a scholarship.
"It's pretty far away though."
Clearly, Scelfo is hopeful that a couple larger programs will swoop in and offer him. That's why he's so noncommittal about even taking officials to the schools currently on his list. He says he has no idea where he'll end up signing.
"I don't really have a gut feeling. Everybody says that once you step on a campus you'll have that feeling about it, but honestly every school I've visited I felt that way. It's just makes it harder."
Only time will tell if the Georgia lineman has true interest in the Orange, or if he's merely waiting for a school like Georgia Tech to deliver a last-minute offer. The problem is, time is running out.
Posted: Andrew Kanell
(adsbygoogle = window.adsbygoogle || []).push({});