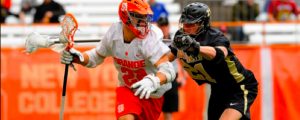 Syracuse lax is 2-0 on the season after all out battle against Army. Plenty of bodies and flags flew in the game, a highly physical test that sets the Orange up for perhaps it's toughest trial of the season: an away game at #1 Virginia. Here are the 
top 3 takeaways from Sunday's 10-9 win.
DOM-ination: Goalie battle, part II.
John Desko can keep us waiting as long as he'd like to find out 
who will be the permanent starting goalie
 on this team, but after a while, numbers start to speak for themselves. Dominic Lamolinara once again finished out the 2nd half, splitting the time evenly with redshirt sophomore Matt Lerman. In the end, Lamolinara walked away with the official win 
and
 earned Big East Defensive Player of the Week honors, allowing 4 goals to Lerman's 5 and making one more save (5-4). Desko once again said he was happy with both goalies, but let us know that he was especially pleased with Lamolinara's play in the end.
"Well, you know Dom and Matt have both been playing well.  I think right through the scrimmages to the games, it's been a nice combination. What we're seeing in practice the rest of the week has been pretty consistent with what we're seeing in games. Both goalies have been playing pretty well.  I think given the situation, Dom was pretty comfortable and made a huge save for us to seal the game."
It was Lamolinara's point blank save on Army's Andrew Boyd with less than a minute left that stamped a W for the Orange. Fans, media, and even Desko know that Dom has come up huge in situations for a team he's been with less than a full year. While the decision is still up in the air, that play definitely padded Lamolinara's resumé for the starting job.
SU is incredibly deep at Midfield.
Three Orange players each had a pair of goals, and one of the top scorers was Luke Cometti. Along with midfielders JoJo Marasco (1G, 1A) and Peter Macartney (1G, 0A), the trio was responsible for four of the team's 10 goals. Cometti notched both his goals in the 2nd half, and both from relatively long range. Army's close defense played at a very high level all day, and forced SU's top scorers to take difficult shots. It took almost half a quarter until Tim Desko could finally find the net and score the first point of the day.
Follow the Fizz on Twitter for live updates of SU lax.
The middies ended up responsible for a considerable chunk of the offensive production, meaning the attack was having a tough time getting to the net. Army LSM Tim Henderson showed why he was an honorable mention All-American last year by giving SU middie Bobby Eilers a run for his money on every possession. The Knights didn't let SU close to the crease for much of the game, and when they did, Army netminder Zach Palmieri (a Syracuse native) made saves.  Cometti says the looks the offense need to be better.
"In the first half, we struggled a little bit. Not only were we not getting good shots, we just weren't getting very many shots at all. There were a lot of penalties. In the second half, coach made some adjustments to the offense, which I think helped, and we moved down in the crease a lot, which helped us get a lot better looks."
Another huge accomplishment for the midfielders was the face off performance.  Syracuse won 16 of 22 face offs, including every one in the 2nd quarter. Chris Daddio played the role of face off specialist on Sunday, and spoke about how important it is to win possession early at center.
"In the beginning of the season, as Coach said, one of the big questions has been face offs. We've been doing a lot more in practice, just working on our own play, and we started off slow in scrimmages, but Pete Macartney and the other shortsticks that are coming in, I'm starting to really get used to them. And, Pete's doing a great job as you can see.  I don't even know where the ball comes out, he just comes out of nowhere and flies in and gets it. He's been real physical lately, getting the balls that I can't get myself."
Working between a young 
offense and defense
, the midfield is primarily responsible for winning face offs and assisting in creating turnovers and feeding the ball towards the offensive zone. Against Army, it did just that.
The sophomore is
coming off an undisclosed "lower body injury."
 However, judging by his game vs. Army, nobody would have guessed he was ever injured. Maltz was the second of three SU players to score twice, along with Cometti and Tim Desko. Both shots were fast and well aimed, and found the back of the net. Not only is Maltz the only underclassman playing on the first attack line with Desko and Tommy Palasek, he's also scored twice in both games. Those numbers tie him with Captain JoJo Marasco for best on the team in goals this season. For a young guy, you have to be happy with his maturity and production this early on.
Now it's white-knuckle time. The annual monster matchup between the two heavyweights of college lacrosse. Syracuse's early test against the Knights might prove to be foreshadowing of a gritty battle against the #1 Cavaliers who are coming off last year's National Championship and packing the reigning Tewaaraton trophy winner in Steele Stanwick.
Posted: Jake Moskowitz
(adsbygoogle = window.adsbygoogle || []).push({});