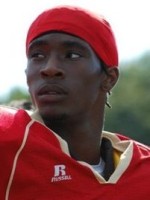 Devante McFarlane can run the ball, rush the quarterback, and play corner – the only thing he can't do is all three of them at once. Many saw his role in this year's class as George Morris's counterpart, but it turns out his abilities make him more versatile than the everyday halfback. In addition to his primary duties running the ball, McFarlane played linebacker and defensive back in high school where he hails from Dix Hills, NY.  After signing his NLI, he caught up with the Fizz, telling us, "Wherever they put me, that I can help contribute to the team, that's good for me."
Doug Marrone spoke about the importance of players  like McFarlane at his presser this afternoon: "Getting a guy like McFarlane, he's a fantastic athlete."
The Dougie clearly believes he will pay off as an under-the-radar talent development. He's just a 2-star recruit, but McFarlane noted that he was comfortable with the coaching staff and made to feel like he'd fit in the program well.
"They made me feel good about Syracuse. They're really confident in their coaching, their team, and everything about Syracuse. They made me feel really comfortable when I finally decided to commit to Syracuse."
Although he's listed as "athlete," DMF told us he's leaning towards playing running back. The decision likely won't be his say, but he told us he's good at making plays with the ball in his hands. 
"Wherever they put me, to help contribute to the team, that's good for me".
With a good attitude and a versatile set of attitudes, McFarlane could be a key back for the Orange in a variety of situations.  Pluses all the way around for SU once again as it inks McFarlane, who's ready to hit the ground running. 
Posted: Jake Moskowitz
(adsbygoogle = window.adsbygoogle || []).push({});