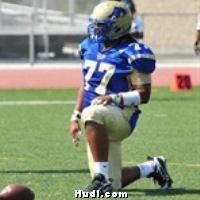 Three-star junior college DT Zian Jones didn't get much sleep last night. It wasn't due to his nerves about NSD. Doug Marrone was just making sure the LA-native woke up at 6:30am local time to get his papers in.
The 6'5" 325 pounder didn't mind. He couldn't wait to sign his name on the dotted line.
"I'm ecstatic, I just can't wait to put that uniform on and ball out for you guys."
Jones comes into the program with two years of experience under his belt, having played for West LA College out in Cali. The junior has high expectations for his upcoming season.
"Just trying to win some bowl games, that's the goal right now. I'm not new to the [college football world]. I'm coming there to do what I have to do to improve our teams record."
Zian is a mammoth of an athlete, and will absolutely make an immediate impact on a greatly improved D-Line this fall.
"I'm physical, fast, nasty, and just ruthless on the football field. I can't put it any other way than that, just ruthless."
Those are the kinds of adjectives used to describe great defensive players. Let's hope Jones becomes exactly that.
Posted: Kevin Fitzgerald
(adsbygoogle = window.adsbygoogle || []).push({});