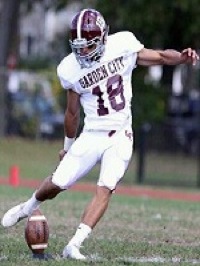 Place kickers aren't at the top of most people's minds on National Signing Day, but Syracuse football's newest one is worth at least a moment's thought. Ryan Norton kicked for Garden City High School on Long Island, and he delivered his LOI to Syracuse earlier today. Simply put, he kicks touchbacks. And you don't need to look at his highlight tapes for too long to notice.
Norton definitely sees his strong leg as a weapon.
"My best strength is definitely kickoffs with distance and hangtime. I think I need to work on punting and accuracy with field goals."
Syracuse assistant John Anselmo, who previously coached at Nassau Community College (located close to Norton'Äôs high school), was Norton's main recruiter. The kicker also said that Marrone visited him personally to offer him a scholarship.
Ross Krautman has been reliable in putting up 3-points, but has left much to be desired with his kickoffs. Norton should be able to help in that department as a true freshman, while working to develop his accuracy as a field goal kicker so he can take over once Krautman graduates.
Posted: Andrew Kanell
(adsbygoogle = window.adsbygoogle || []).push({});