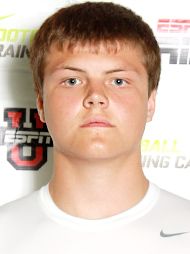 Syracuse looked at the trenches with this recruiting class, and 3-star OG Kyle Knapp is part of that plan. The Portage Central, Michigan product was looking at some smaller schools as well.
Listen to the FizzCast with OG Kyle Knapp
Syracuse beat out a suprising recruiting nemesis, FIU, and an on-field opponent, Toledo, to get him. Cincincinnati was also looking at Knapp. He says the number one reason he chose SU is the family atmosphere:
"I felt on my visits they really made me feel like a member of the family and I barely knew em at first but I felt like I had already known them for a while."
Knapp is ranked 50th at his position and says despite not being the biggest guy (6'4″, 265 lbs.), he more than makes up for it with hustle and speed. Knapp also had high praise for The Dougie especially in the wake of Crazy Eyes bolting Rutgers for greener pastures.
"He seems like a guy of integrity and a guy who's not gonna steer you wrong. He's gonna tell you how it is even if it's something you don't want to hear and I like that. I don't want somebody who is gonna be lying to me."
Posted: Alex Plavin
(adsbygoogle = window.adsbygoogle || []).push({});