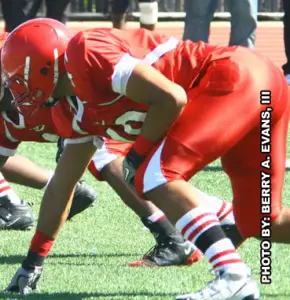 JuCo Defensive End Markus Pierce-Brewster makes no bones about what he brings to the table.
"I'm a pass rusher. I'm a speed guy."
Considering the success of speed ends like Chan Jones and Dwight Freeney on the fast Dome turf, this is certainly music to Orange ears. While MPB says Freeney's spin move is a lot harder than it looks, he's ready to make a major impact next year.
"Every guy's gonna say that, but I really believe I can come in and compete for the job."
A major impact on Pierce-Brewster's commitment is Greg Adkins relationship with his JuCo head coach George Rush.
Rush's professionalism shines through, he is one of few coaches that will always give return a phone call and even called The Fizz this morning to set up an interview with Markus today. MPB says that since Rush trusted Adkins, he knew that Syracuse had his best interests in mind and committing to the Orange was pretty easy.
Posted: Craig Hoffman
(adsbygoogle = window.adsbygoogle || []).push({});