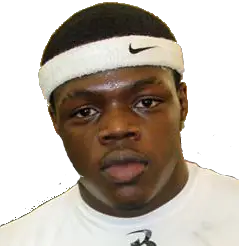 He's here. After months of anticipation, and the entire SU community sitting on the edge of their seats, SU reeled in 4-star DB Wayne "Lights Out" Morgan early Wednesday morning to solidify a solid 2012 class.
Morgan kept his decision under wraps for weeks leading up to NSD, stealing the spotlight. But Wayne told the Fizz, SU was a no-brainer.
"I knew two days after I came back from Connecticut. In my heart I felt more comfortable at Syracuse. I just liked SU better."
Morgan was enamored with Marrone's philosophy. The Dougie never sugarcoated anything around Wayne. The Brooklyn native loved his down to Earth, straightforward approach to coaching.
"He said 'Syracuse might not be the place for you'. He said 'It's not the place for a lot people, but you have to find it in your heart just to know if this is the place for you to be'. Once I heard that, my heart was there."
There was no way Morgan was going to spurn New York'Äôs college team. With Syracuse in his backyard, Wayne wouldn't migrate to Pasqualoni-land. 'ÄúI'Äôve been repping New York all my life. It feels good to stay home.'Äù¬†
 
The E-Hall star also had his dream come true about playing with his boy Brandon Reddish. Wayne assured the Fizz that the two will tear up the secondary the next few years.
"Brandon is a real positive guy, I trust him. We're going to do it up big [next season]."
SU achieved its goal. Marrone brought in a lockdown corner, who has the ability to become the leader of this defense in a couple of seasons. Wayne is smart, and he's confident, and we'll all see him up on the Hill this fall.
Posted: Kevin Fitzgerald
(adsbygoogle = window.adsbygoogle || []).push({});