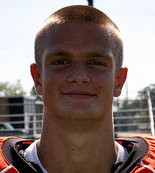 The Fizz gushed about him during the summer, saying Ben Lewis would make SU fans giddy. Now, he's finally an Orange. The big play was¬†a need¬†for SU throughout last season, and¬†Lewis hopes he'Äôs the next one at wideout.¬†He said signing with SU was "a moment he'Äôd dreamed about."
Lewis fell in love with two things. First was the coaches.
"I went to the summer camps and stuff and it was awesome. I really liked the coaches and they made me feel like family."
The other thing he loved is Newhouse. Lewis wants to pursue a degree in Broadcast Journalism at Newhouse.
'ÄúSyracuse is nationally known for sports broadcasting. After looking at the long list of names who'Äôve come out of there and work for ESPN and such… I really wanted to go there.'Äù
No mention of the night host on Boston's #1 station, but we'll let it slide.
As for next year, Lewis sees himself as a guy who'Äôs going to push other players in practice and might play some on special teams. He also played DE in high school. Let's see if he can become the next big play threat.
Posted: Craig Hoffman
(adsbygoogle = window.adsbygoogle || []).push({});