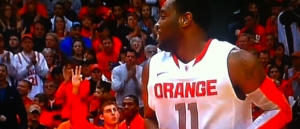 Syracuse is now an incredible 25-1, after dismantling bitter rival UConn 85-67. Scoop Jardine poured in 21 points and dished 6 assists, proving once again how deep this team is in leading scorers. The unranked Huskies proved little resistance for the SU machine, but things won't always be this breezy. The Orange remained poised and fed off a raucous Carrier Dome crowd. The depth of SU terrorized UConn, providing waves of energy and bodies the Huskies simply couldn't counter. It wasn't nearly as satisfying without CalhounBot 3000 moping on the sidelnes, but kicking UConn's tail is always enjoyable. Maybe the old codger decided to take a leave of absence because he could see two Orange ass whippings on the horizon.
While the Big East isn't its usual brutalizing gauntlet, March is always full of booby traps. Basketball is a game of matchups, and teams that can slow down Syracuse in transition and crash the boards have the best shot of taking down the Orange.
Here are The Fizz's 5 worst matchups for the Orange come tournament time:
#24 Louisville
It may seem strange to look at a team just cracking the top 25 as the most dangerous foe for SU. But¬†Slick Rick has owned The Per'Äôfesser of late,¬†and can dissect the 2-3 zone better than any coach right now. Louisville was plagued by injuries after its 12-0 start, but has started to click on all cylinders winning five straight. The Cardinals plays with an edge and are always in the game (throw that flukey 30-point loss to Providence out the window). Syracuse struggles against scrappy squads that play¬†team¬†basketball. Look no further than¬†last year's 2nd-round exit to Marquette.
Kyle Kuric is an Orange killer and seems to go Jeremy Lin on SU every year. The Cardinals also seem to thrive shooting against the zone and have been unconscious from three-point land. These two teams meet twice before the regular seasons ends, and a matchup in March could be SU's worst nightmare.
#10 Duke
The Dukies are a team The Fizz does not want to see in SU's bracket. The Blue Devils are balanced and have an excellent blend of perimeter players and athleticism down low. Austin Rivers, Seth Curry and Andre Dawkins can stroke it from deep and the high-energy Plumlee brothers are are active on the glass.
Teams that can hit treys and rebound on the offensive end will give SU fits. The Orange sometimes goes into dry spells on offense, and Duke would take advantage of that. Lastly, Coach K teams are always disciplined and well prepared. The future ACC foe has all the ingredients to beat the Orange. Would the committee place SU and Duke in the same region, making for a legendary matchup of coaches for a right to go to New Orleans on the line?
#1 Kentucky
The Wildcats are a bad matchup for any team. UK has the most talent in the country and is balanced at all five positions. Doron Lamb and Darius Miller are lethal from long range, Anthony Davis is a freak and Terrence Jones and Michael Kidd-Gilchrist have incredible athletic ability. Kentucky's defense is tough to navigate as well.¬†SU fans know the impact of having a monster in the paint. Davis is Fab with go-go gadget arms and better leaping ability. The size and length of Kentucky can counter that of SU's. Syracuse'Äôs strengths are blocking shots and getting out in transition. The Wildcats are just as good, if not better than SU in both those departments.The Wildcats are a scary team, plain and simple. Luckily for Orange Nation, Syracuse¬† probably wouldn't see UK until the Final Four.
#3 Ohio State
Good ball movement is the key for any team's success against a zone, and the Buckeyes are particularly effective when they swing the ball laterally.¬†William Buford and Aaron Craft are smart guards who make good decisions and can dictate the pace. The recipe for success against the Orange is to slow things down and make it a half court game. Ohio State can make that happen and thrives in the half-court game. The one place SU holds an huge advantage over the Buckeyes is height differential. Although Jared Sullinger plays like a bull, he is an undersized forward. Fab'Äôs length could put Sullinger and forward Deshaun Thomas off their game. On the flip side, Sullinger has great body positioning and uses his leverage inside better than anyone into forcing a lot of fouls. Sullinger could easily get Melo into whistle trouble.
#5 North Carolina
Big bodies down low? Check. The boys from Chapel Hill have the tri-force of Harrison Barnes, Tyler Zeller and John Henson that drive teams crazy. UNC is a front court team that is driven by those big three. They are athletic and are scorers. That high post/low post game is the soft spot in Boeheim's zone. Barnes or Henson patrolling the high post is not a good matchup since both can hit that mid range jumper or drive for an easy lay up. The Tar Heels are also third in the nation in offensive rebounding. SU's achilles heel has been cleaning up the glass. UNC'Äôs size and depth at forward is tough to defend. The Orange usually plays two small forwards in the zone (C.J. Fair and Kris Joseph) but against Carolina that might not be possible. The size of UNC is scary.
There's still plenty of basketball to be played, and SU isn't guaranteed a 1-seed. But it's worth keeping an eye on these teams and where they fall in the bracketology as March Madness approaches.
Posted: Dave Van Moffaert
(adsbygoogle = window.adsbygoogle || []).push({});