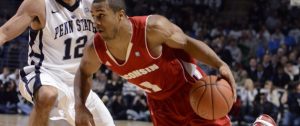 Syracuse takes on Wisconsin tonight in the Sweet 16 in Boston and The Fizz will be courtside. Before we take the T down to the Garden, here's a Fizz 5 Preview of tonight's clash of styles.
1. Pace, paaace, paaaaaaaace.
Syracuse has proven it can win any type of game this year, but for the sake of your eyeballs you'll want this game to be played at the Orange tempo. CBS' Verne Lundquist told me yesterday he hopes the game is played at Syracuse'Äôs pace because Wisconsin is so painfully slow. The Badgers have absolutely no problem eating all 35 seconds of the shot clock. On the defensive end, they are tough as nails and finding good shots against them is difficult.
2. Wisconsin will play man.
This is a good, but never great because they play it so well. Bo Ryan left the door open yesterday at maybe trying some zone, and the Orange offense has been killed by the 2-3 recently. But Jordan Taylor says he hasn't played one second of zone in his 4 years there, and he doesn't think his team will start now. While we often say "you've seen zone, but you haven't seen Syracuse's zone," the same can be said for Wisconsin's man-to-man. It's a "soft man" which has nothing to do with the tenacity. It means the Badgers switch a lot. 'Sconsin is tops in the country in defensive points per game. It's part pace, part ridiculously good defense. This will be a matchup of strengths. The Orange would always rather see man than zone.
3. Will Dion Waiters scoring binge continue?
Wisconsin says it's seen some pretty good guards this year, like Michigan's Trey Burke and Ohio State's William Buford. With all due respect to those two guys, they are not Waiters' caliber. Burke isn't as big or powerful as Dion. Buford can't attack the rim with the ferocity DW can. The often misunderstood and confident guard is also on a roll right now. He's averaging nearly 20 ppg over his last 3. The best offensive perimeter player Wisconsin has faced this year is Harrison Barnes from UNC. He scored 20 in a Tarheels win.
4. Stop #11.
Not Scoop Jardine, who looks to build on a great second half against Kansas State. Wisconsin's go to player is their #11 point guard Taylor, who averages about 15 points and 4 assists per game. Taylor never hands the ball over, and is on pace to shatter the NCAA's all-time assist-to-turnover ratio. Taylor versus the zone is an interesting matchup. After the Badgers milk the clock, he's their bailout "create-your-own-shot" guy. That's a lot harder to do against a zone where you likely have to beat 3 guys instead of 1. There's a great chance the Orange force Wisconsin into a few shot clock violations today.
5. Wisconsin looking for the big one.
The Badgers have had a very good year, but they haven't beaten the best opponents on their schedule. 'Sconsin is just 3-7 against the top 20 (two wins over Indiana, a 3-point win at home over Ohio State). That doesn't mean that Wisconsin isn't capable of beating SU. The Badgers are armed with a plethora of long three-point shooters and a stingy defense. It has the pieces to beat the Orange. The Badgers just haven't pulled a major upset this year.
Let's hope the first one doesn't happen today. Boston's nice this time of year and we'd like to stay a few extra days.
Posted: Craig Hoffman
(adsbygoogle = window.adsbygoogle || []).push({});