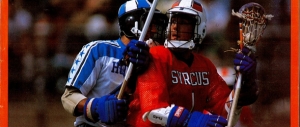 Before last weekend's frustrating loss to Georgetown, Syracuse dismantled Rutgers in coldly efficient fashion. The morning of the Scarlet Knight Massacre, 4-time Syracuse All-American defender Ric Beardsley sounded off on Fizz Radio.
Before the RU game the Orange was a 5-5 team guessing at its postseason future, Syracuse was approaching bubble status for the NCAA tournament. Two weeks later SU is not much more comfortable sitting at 7-6, and a 3-seed in the Big East tournament.
At the time we asked Beardsley if the Orange would earn a spot in the field of 16. "Uncle Ricky Beast" said SU might be excluded from the tournament for reasons that go beyond its play on the field.
"You have to remember, there are a lot of naysayers in Baltimore. A lot of people have it against Syracuse for all of the prior success. If there's a chance to bounce Syracuse, believe me, the college coaches and anyone who votes on these, the committees will do their best to bounce them out."
Beardsley was a major part of that prior success. Does Syracuse have past enemies that shed shoulder pads in favor of a suit and a vote? The epicenter of the sport is obviously Maryland where the Men's Lacrosse Committee serves. It votes on and receives recommendations from advisory committees in each division. SU coach John Desko served on an advisory committee in 2010.
Top lacrosse minds coming from powerful lacrosse schools carry the emotions of deep-seeded rivalries. It seems strange to suggest the sport's most storied program is an "outsider." But college lacrosse is still niche enough to be a family affair. While it has spread beyond its traditional borders, many point to a "lax mafia" as the brain trust of the sport. 
Could SU be punished as payback for so thoroughly dominating the sport over the past three decades?¬†Is the committee looking to pounce at the first sign of a weakened Orange program? Even if it's nothing personal,¬†SU might become a victim of its own success. Beardsley says there are voters looking at Syracuse'Äôs 11 titles, and forcing the current team to live up to tough standards.
"I honestly think that there's too much parity in college lacrosse right now to get them in with 7-7 or 8-7 records. [Syracuse] is not Hopkins. Hopkins is going to get a lot of votes, Hopkins has gotten in before with losing records."
Johns Hopkins is one of SU'Äôs most storied opponents, and resides in the lax bosom of Baltimore. Are the programs on the inner circle held to a different set of expectations? Maybe it's just a classic case of "us against the world" that so many successful athletes and coaches utilize for motivation. But Beardsley is a 4-time All-American and is still closely involved in the sport. His words carry weight.
Ultimately, there's no one to blame more than SU itself. The Orange played uninspired lax for most of the season, and suffered it only two Big East losses ever. This tilt-a-whirl campaign has created more questions than answers. Who's starting in goal? How is it possible Syracuse is so bad at face-offs? Who is going to step up as the true leader of this team?
The issues between the lines are numerous enough. Even if SU pulls an upset at #5 Notre Dame Saturday, this young Orange team may still have even more difficult opponent to defeat: the selection committee. All from bad blood that started boiling long before these players were even born.
Posted: Jake Moskowitz
(adsbygoogle = window.adsbygoogle || []).push({});