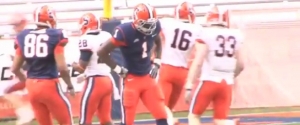 The excitement was palpable on the Hill Saturday for the debut of Mr. Do Everything. Ashton Broyld was barely on the field in Rochester a couple weeks ago, but was all over the Carrier Dome turf during the Spring Game. Ashton embraced the hybrid role, taking snaps at running back and wide receiver, while playing alongside QB Johnny Kinder.
His versatility was on full display as he lined up in the power eye and offset formations in the backfield, and in the slot for screen passes. Even though he didn't take any snaps under center, it was obvious to see what kind of impact the 6'4" swiss army knife can be this season Рand Doug Marrone knows it.
"He's a big, strong, fast, physical athlete. We're very fortunate to have him. I think he is going to be a great asset to us offensively. We just have o keep bringing him along, because he's someone who can make a lot of plays."
The question now becomes how much will Broyld play at each position? Because of his physicality and explosiveness, Ashton may get a series every half (or more) under center to run the Wildcat and option offense. The Syracuse offense is conservative and predictable with classic drop-back passer Ryan Nassib at QB. But a change of pace with Broyld's athleticism could be the perfect antidote to the lethargic attack.
Most surprising on Saturday is that Broyld spent more time at WR than RB. Despite a couple drops, designing screens for Broyld in the slot looks like a good idea. That was especially evident when he turned a short pass from Kinder into a 45-yard pickup down the sidelines. For a Spring Game that totaled just 9 points (none of them offensive), it's obvious SU is desperately seeking playmakers. 
At 6'4" 230 lbs. Broyld doesn't possess the quickness of Alec Lemon or Van Chew. But the idea of Broyld sifting his way through tackles on a designed bubble screen is exciting. Don't let the big frame fool you. He still has better speed than most would assume for a player his size. Despite taking big strides this spring, Nassib says Broyld still needs to get comfortable with the offense.
"The kid has tremendous upside. Some of the older guys and myself are going to make sure we can bring him along as much as we can. Instead of trying to throw everything at him at once, we're going to bring him along piece by piece." 
Even if Ashton doesn'Äôt see much time under center, the battle between him and¬†Kinder will be entertaining following the season. Johnny looked confident with his tosses on Saturday, and was fearless when airing out deep balls down the field. Nassib graduates after this season, and SU didn't recruit any quarterbacks in this past class. That means the successor to the throne is already on this roster because it's highly unlikely SU would hand the keys to a true freshman or first-year transfer in '13. So Broyld's influence will be obvious this season, as SU uses him in a "slash" role and preps him to compete for the starting job in the future.
Posted: Kevin Fitzgerald
(adsbygoogle = window.adsbygoogle || []).push({});