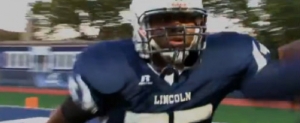 When JUCO DT Wayne Williams chose to commit to SU last week, it was simply a different chapter in the same story for the Orange. The gigantic 6'Äô5'Äù 350 lb. lineman knew he would be comfortable surrounded by his former Brooklyn friends, guys like Wayne Morgan, Brandon Reddish and Ivan Foy. Williams, a '11 graduate of Lincoln HS, had spent the last season at ASA Junior College close to home. But Shawn O'ÄôConnor, his former coach at Lincoln, admitted to The Fizz he always knew Williams would end up at SU¬†like so many of his other peers.
"Coach Marrone is going to show to the rest of the country that he can win with these kids. We're excited about the talent that [New York City] has to offer."
And so the saga continues. In a week¬†where SU killed it on the recruiting trail, Williams becomes the latest NYC product to bring his 'Äúswagger'Äù up to the Hill. The Big Apple¬†is shading Orange with every Marrone recruiting class, and coaches like O'ÄôConnor couldn'Äôt be any happier. Williams is the 10th¬†recruit from NYC that SU has reeled in since '10 (the first class that was entirely Marrone'Äôs). Adding guys¬†like Ebenezer Ogundeko (offers from Alabama, Notre Dame, Miami, etc) or Augustus Edwards¬†(offers from N.C. State, Pitt), would continue to plant the flag for SU in '13.
It's also an encouraging sign to have NYC's high school coaches engaged and excited about Syracuse. It's a cooperative dynamic. Win over the leaders of high school football programs, those kids will naturally start leaning your way. Better recruits means a better program. A winning program means those high schools get more recognition for their athletic departments and the students they're producing. And then the Big Apple pipeline becomes gilded Orange. 
Williams didn'Äôt even start playing football until his sophomore year of high school,¬†and suited up for only 3 games last fall due to injuries. But the interest in his size and athletic gifts was high. Dub turned down an offer from Texas A&M to join SU. His personality will undoubtedly fit inside that locker room. O'ÄôConnor tells us Williams' positive attitude is contagious, and he could develop into a true leader.
"He's very outgoing, he is very funny and has a lot of character. He's one of those guys in the locker room that keeps all the kids going. But when games were tough and tight, he was the on who would step it up."
The DT will join the Orange in '13 with two years of eligibility. He adds necessary size and freak athleticism to a defensive front that needs bodies. Williams joins two other JUCO defensive linemen, Zian Jones and Markus Pierce Brewster, who will also make an immediate impact on the football field from day 1.
It was difficult for the Brooklyn product to watch fellow teammate and Syracuse target Ishaq Williams become a darling of the college football world. Wayne let his grades slip and it forced him to enroll in junior college. O'Connor said he was never rattled.
"He was just a little immature. I don't know if really understood the ramifications of what you really need to get done in the classroom to fully qualify [for college]. The grades weren't good enough. But this past February, he told me, 'Coach, I'm going to play D-1 ball'."
Williams has gotten his grades back in order, and luckily SU and Coach Anselmo Рwho was instrumental in reeling in NYC guys like Morgan - have stuck by him. O'Connor boasted that Anselmo was always there for Wayne, and always gave him positive advice despite his poor grades. He showed Williams the JUCO route and told him to keep the right mindset and he would succeed.
The former Lincoln star certainly has big expectations at the next level. He was getting the same attention from powerful schools just like Ishaq, but grades were his biggest Achilles heel. Now that it's taken care of, O'ÄôConnor believes he can focus on reaching his potential.
"With a kid that size, athletically he moves very well. His attitude is tremendous. He loves to compete, and he wants to win every down."
SU'Äôs third verbal commit to the Class of '13 not only boasts size and brute strength, but also that New York City belongs to Syracuse. Players like Williams want to compete together with hometown friends and the Orange is cashing in. Wayne is just the first NYC prospect to commit this class, but he is simply the tip of the iceberg for Marrone and co.
Posted: Kevin Fitzgerald
(adsbygoogle = window.adsbygoogle || []).push({});