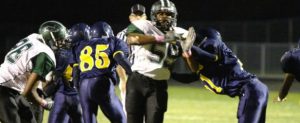 Much to Orange Nation'Äôs surprise, this was actually exactly how Myles Hilliard envisioned things would pan out. This ¬†how the big 6'Äô6″ 260 lb. DE pictured his freshman year in college.¬†The former Pittsburgh Panther, turned Orange,¬†now becomes a Falcon at Milford Academy this fall in New Berlin. Myles'Äô grades his senior year at Bedford (OH) HS did not make the cut for SU's Summer Start program. The Class of '12 commit actually found out he wouldn'Äôt be eligible to enroll at Syracuse way back in May, during his¬†senior year. Myles tells The Fizz¬†he wasn'Äôt shocked at all.
"No it wasn't surprising. Going into my senior year I knew I had to get a certain grade point average, so I picked up a couple extra classes to make sure that I would get it."
That ended up hurting Myles. He fell victim to an unusual course load that saw him taking eight core classes in a 9-period school day. Most other students were only taking six or at most seven classes. Include the two extra online courses Myles was taking, throw in football practice throughout the fall, and that's an almost insurmountable schedule to handle for someone who will only be turning 18 this month.
"I knew it was a lot. It was just too much at the time, and I thought I could handle it, but I couldn't. I wasn't as surprised when they told me I had to go to Milford Academy. I really didn't focus like I should have my senior year, and me going to Milford is actually going to help me focus going into college."
Hilliard is taking a great first step on his way to Milford by understanding what happened, and looking at this next semester as a brand new opportunity.¬†He'Äôll be taking the same path "Mystery Man" Charles Davis will be taking in 2013. Besides, he always knew this would be a possibility.
'ÄúWe had always talked about going to Milford from the day I signed my letter of intent. We talked about the 'Äòplan B'Äô."
The hulking DE will have to wait a few months before he can mash QB's at the Division 1 level. Hilliard was a crucial late commit in January, as Doug Marrone was able to sway the former 3-star product to the Hill. The day before National Signing Day, in a matter of hours, Myles de-commited from Pittsburgh and threw on the Orange. He joined a wave of defensive lineman SU had reeled in to compensate for the losses of Chandler Jones and Mikhail Marinovich. But Myles will have to wait for 2013 to play with his teammates and break in the ACC.
Hilliard sure was disheartened after the news. He felt like he almost let his future teammates down.
"I was disappointed because I met some of the players up [in Syracuse] and I really wanted to play with them this season, and we had a good relationship. Also the class of 2012, I did want to play with them."
But Myles is not wasting a minute in his journey back to Syracuse. Hilliard has kept the faith and he is finding the positive in the situation. This process is going to develop him, not just from a football standpoint. You have to applaud the DE for keeping that mindset.
"Me going to Milford is not all bad. I get to grow physically and mentally. My going to Milford I feel is actually preparing me a little more for the 2013 season. [It's] going to mature me as a man, and will mature me academically."
As much as SU fans would have liked to see Myles at SU this season, he'll be doing all he can to be inside the Dome next season. Despite his grade snafu, Hilliard's upbeat attitude over the last few months passes with flying colors.
Posted: Kevin Fitzgerald
(adsbygoogle = window.adsbygoogle || []).push({});