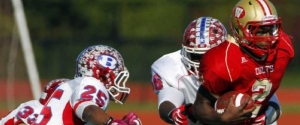 One of the top impact players to watch as SU opens the season against Northwestern is freshman DeVante McFarlane, who was newly named a RB. Doug Marrone recruited McFarlane as an athlete, because he was obviously talented but had multiple possible landing spots on the SU roster. McFarlane's latest switch is back to offense after spending training camp as a safety. 
 
Marrone says McFarlane brings so many abilities to the table that it took him some time to finally decide where he would best help the team. As the roster currently stands, that spot is in the backfield. 
"When I met with DeVante, I really struggled. At first, I saw 6'1", that the kid runs a 4.5 [40 yard dash], and 194 pounds that can run and hit. I think those type of players are tough to acquire. I wanted to put him at runningback, because I also knew he was a darn good runningback, and at the time we were still working out the safety position."
Anyone who can run and hit is a valuable supplementary piece at a list of possible positions. As Marrone saw more of McFarlane throughout the spring and summer, he decided that his abilities were better suited for the offensive side of the ball.
"Now I look at a guy who can potentially run the ball, pass protect, catch the ball, and a whole bunch of other things. Hindsight being 20/20, I wish I would have moved him back to runningback earlier. I think he has the talent, so I'm excited to see how he progresses." 
The backfield is already a crowded one, with Jerome Smith grabbing the starting nod plus Prince-Tyson Gulley, George Morris, Adonis Ameen-Moore and now McFarlane. All 5 should get carries this year.
 
Back in the spring, when McFarlane inked his NLI, he told The Fizz he felt best as a halfback, but was flexible.
"Wherever they put me, to help contribute to the team, that's good for me."
At Half Hollow Hills West High School, McFarlane was a 3rd team all state linebacker. He also spent time in the secondary and at runningback. Apparently, he learns quickly because he has the raw athleticism that can be applied on both sides of the ball.
 
DMF has finally landed where he wanted to all along. Now, he gets a chance in his first year to contribute big plays to an offense that needs them.
Posted: Jake Moskowitz
(adsbygoogle = window.adsbygoogle || []).push({});