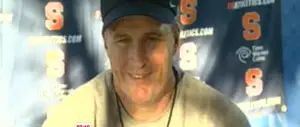 At the risk of turning 2012 Syracuse football into a daily meandering of amateur psychology, it was glaring: Doug Marrone was much happier as camp opened this weekend. Last week at Big East Media Day, the Dougie was noticeably cranky and short in speaking about the upcoming season. Of course, this could have easily just been an annoyance with the interviewer (me). But overall, from his opening comments on the podium to his one-on-one with yours truly, Marrone was far from upbeat. His most memorable line from Tuesday? "I'm not happy." 
In comparison, yesterday SU's head coach seemed downright glowing. Marrone was asked about his attitude going into camp and said, "My enthusiasm is very high."
A reporter asked him about Marcus Sales, and Marrone interrupted the question to say, "You have to smile more." He also mentioned light-heartedly chatting with a player who had missed time recently. "I told him, this might be the longest you ever practiced. I joked with him about that." 
This is not last Tuesday's Doug. In Newport I asked Doug about the bright spots heading into camp, he had to pause and find something. Despite me bringing up how most fans and media were satisfied with the direction of the program, he pointed out his disappointing win-loss record. He was on edge.
Why the change yesterday? Maybe the athletic department nudged him to be a little more optimistic since the fans were discussing Marrone's terseness last week. Maybe being locked in a room full of slovenly Big East media is his idea of Chinese water torture, as opposed to outside on a football field.
Most likely? He had two different ways to deliver his message, which he reiterated yesterday. When asked how he felt about Day 1 of camp? "We have a long way to go. We are not where we want to be right now." 
And that about says it all. Marrone knows the intense amount of work that lies ahead for a 5-7 football team with a daunting schedule. No amount of smiling can change that.
Posted: D.A.
(adsbygoogle = window.adsbygoogle || []).push({});