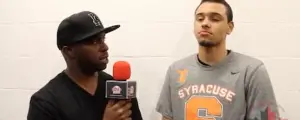 Update: 9:43p. Listen to an exclusive interview with Ennis after his decision, and why he chose to play for the Orange.
* * *
Update 7:15p: It's official. Tyler Ennis proudly put on a Syracuse Orange t-shirt and announced his verbal commitment to SU. Ennis is an excellent start to Jim Boeheim's class of 2013. He should provide instant production and leadership from the point guard position, and possibly help bring in future talent as well. Stay tuned for an exclusive Fizz interview with Tyler, coming up later tonight.
It's amazing how Syracuse fans have become accustomed to huge basketball commitments, but we shouldn't let that cloud how big a success this is. Ennis is arguably a top 20 player in the Class for '13, and even though the favorite was always SU, the Orange still had to do the work. 
Powerful programs jumped in the mix, and Adrian Autry and co. never took anything for granted. This helps solidify the guard situation going into next year, and also begins a nice young nucleus of DC 2.0, Jerami Grant, Michael Gbinije, and Ennis in the most recent recruiting classes. It may also bring Isaiah Briscoe into the Orange family as well. Big get for the Orange. The SU recruiting machine keeps on churning. Can't take that for granted. 
* * *
Tonight superstar Class of '13 point guard Tyler Ennis will likely make his college decision official, and The Fizz has leaned towards Ennis being Syracuse-bound for a few months. Ennis's father and CIA Bounce Head Coach Tony McIntyre announced via Twitter that CIA Bounce TV will feature a "major announcement" tonight at 7 pm. You can tune in here.
Rivals has Ennis listed as the 20th overall recruit in his class, while Scout has him ranked as a top 5 point guard.
McIntyre previously told¬†SNY'Äôs Adam Zagoria¬†that his son wanted to commit before he went back to St. Benedict'Äôs Prep for his senior year of high school. Tyler now lists Syracuse, Louisville, UCLA, Memphis, and Illinois as his top five, but all signs point to the Orange being his choice. There has long been a feeling within recruiting circles this was SU's race to lose, and the Orange has done everything it had to do to keep him locked in.
Ennis' first college game he ever attended as a kid was at the Carrier Dome, and Syracuse wins the geographical race since it's closer than all of the other finalists to where he grew up in Toronto, and his family's current home in Buffalo.¬†Syracuse assistant¬†Adrian Autry¬†was a constant presence at every one of Ennis'Äô various events last month, including the Nike Global Challenge, Peach Jam, and the Caribana Classic in Toronto.
Though Ennis has never explicitly stated as much, Syracuse has long been considered the front-runner by all credible sources. Syracuse has been courting the point guard from the start. There was an internet report in July that ambiguously forecasted an SU commitment by Ennis.
Bringing in Ennis might also clinch the Syracuse commitment of another highly-rated point guard, Class of '15 recruit Isaiah Briscoe. Ennis' St. Benedict's teammate has already shown major interest in Syracuse, and said in the past that Ennis's decision could impact his. Even though he's only entering his sophomore season at St. Benedict's, there's a possibility that Briscoe could also commit before summer's end.
Ennis' coach Mark Taylor said, "Tyler¬†might have the best IQ out of any player I'Äôve ever coached. And to go beyond that, he might have to most poise and calmness in crazy situations on the court, which makes it impossible for teams to rattle our team. That'Äôs something as a point guard you can'Äôt teach.'Äù
In one night, Syracuse can secure a talented backcourt for several years into the future.
Posted: Andrew Kanell
(adsbygoogle = window.adsbygoogle || []).push({});