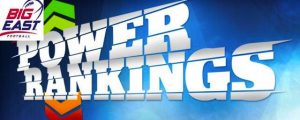 It was another ugly weekend for the Big East. The MAC went 2-0 against the conference,¬†Syracuse lost a heartbreaker, and the conference's highest ranked team, Louisville, had trouble with Florida International. Just another weekend at the office for Mike Aresco. Check out this week'Äôs Fizz Power Rankings.
1)   #23 Rutgers, 4-0 (This weekend: W, 35-26 @ Arkansas)
Rutgers leapfrogs Louisville to claim the top spot after our first power rankings, and the helmet sticker of the weekend clearly goes to sophomore QB Gary Nova. The second year starter shredded the Razorbacks for 397 passing yards and 5 TD's. Say what you will about 1-3 Arkansas, but the Knights went into Fayetteville and kicked some SEC butt. RU was in control all game. The "second coming of Ray Rice," Juwan Jamison, also had his fourth straight 100-yard rushing game. The defense is solid. When Nova shows up, this team is the best in the Big East. He'll have to prove in a couple weeks that this Saturday wasn't just a one-and-done performance. The key is consistency.
Up next: v. UConn, October 6th. 
2)   #19 Louisville, 4-0 (W, 28-21 @ Florida International)
All together now, Louisville: Whew. The Cardinals drop a spot this week thanks to their average performance against the Golden Panthers on the road. Tailback Senorise Perry, who is arguably one of the best RB's in the Big East, didn't get enough carries and QB Teddy Bridgewater threw two picks. This is FIU. Louisville has had a bizarre last couple of weeks. The defense nearly choked away last week's game against UNC, and then allowed FIU RB Jeremiah Holden to pile up over 100 yards in Saturday's contest. This Herculean D has looked human in 2012. This is the second straight year the Cardinals had trouble with the Panthers. They lost to FIU 24-17 at home last season.
Up next: @ Southern Mississippi, Saturday.
3)   Cincinnati, 2-0 (Bye)
Hopefully the Bearcats were wise not to watch any of the other mediocre Big East games this weekend. They stay put at #3, but have a big time matchup coming up this weekend when Virginia Tech comes into Nippert Stadium. Old Frank Beamer won't be able to handle another loss to a Big East squad, but if Cincy can get out early and establish a strong run game like Pitt did, it certainly has a chance. Senior RB George Winn has nearly 250 yards on the ground and two TD'Äôs this year.
Up next: Virginia Tech, Saturday
4)   Pittsburgh, 2-2 (W, 55-10 v. Gardner-Webb)
Easy win for Pittsburgh playing against an FCS squad that had no business being in the same stadium as the Panthers. Granted the run game was solid for Pitt (they racked up 229 yards) but let's see this production against a Big East team. And they'Äôll have their chance against the Orange next Friday night. Are the Panthers going to make everyone forget about their first couple stinkers they put up earlier this month?
Up next: @ Syracuse, October 5th.
5)   USF, 2-2 (L, 31-27 @ Ball State)
And now comes the ugly bottom half of the conference. USF should have dropped further after its brutal loss to Ball State. But luckily three other Big East teams had equally demoralizing losses. Coach Holtz' crew was its own worst enemy Saturday. Two interceptions thrown by the always shaky BJ Daniels and 112 penalty yards. If the Bulls are giving up 31 points to the Ball State Cardinals, good luck next weekend against the 'Noles. They might drop a 50 spot on the Bulls if they don't turn it around.
Up next: v. #4 Florida State, Saturday.
6)   Syracuse, 1-3 (L, 17-10 @ Minnesota)
Where to begin? Costly turnovers and questionable play calling result in another stinging loss. SU never looked comfortable moving the football on offense and scored its only touchdown of the game with :46 seconds left in the fourth quarter. The Orange lacked the big play. And drives into the Minnesota territory were stifled by turnovers. The 1st and goal from the 1 Рand subsequent interception Рwas clearly the most frustrating series of the ballgame, and SU never recovered after that drive. It's never good to head into a bye week being this low. Sure, all seven Big East games on the schedule for Syracuse seem winnable. But winning five of those is a tall task for a team that has just one win since last October. This was a game SU let get away.
Up next: v. Pittsburgh, October 5th.
7)   UConn, 2-2 (L, 30-24 @ Western Michigan)
Another example of an inferior opponent essentially dominating Big East talent this weekend (See USF-Ball State). Western Michigan jumped out to a 17-0 lead in this game, and never relinquished the lead. The Broncos capitalized off of UConn turnovers, and even scored on a fumble recovery in the fourth quarter. The Huskies piled up over 400 yards of total offense, but couldn't sustain their drives. It's the second straight season Connecticut has lost to Western Michigan.
Up next: v. Buffalo, Saturday.
8)   Temple, 1-2 (L, 24-13 @ Penn State)
The Owls put up a decent fight against the Nittany Lions, but not enough to cause pandemonium in Happy Valley. QB Chris Coyer was a bit more consistent with his throws, but still looks shaky in the pocket. Temple only mustered up 113 rushing yards Saturday. It was the seventh straight loses in seven straight years for Temple against Penn State.
Up next: v. USF, October 6th.
Posted: Kevin Fitzgerald
(adsbygoogle = window.adsbygoogle || []).push({});