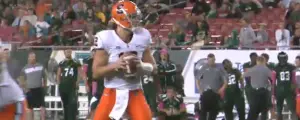 Syracuse's game-winning drive against South Florida saved the season. You'd think a 23-3 halftime deficit would have Doug Marrone fuming in the locker room. Instead it was Ryan Nassib, according to players, who took care of the motivational speech. He told his teammates if they didn't want to show up for the 2nd half, don't even bother going back on the field. Nassib led the Orange offense to three touchdowns right out of the break, and finished the job with an epic 75-yard drive for SU Рmaybe the best of his career. He finished 27/40 with 4 TD passes for 328 yards. Obviously, his halftime burst woke up his teammates. Jerome Smith tells The Fizz Nassib is a natural in that situation:
"He didn't even look like anything bothered him. Look at him right there. He's a cool dude. He knew he was going to come out and take care of business. For a guy that's been through so much that he's been through. He's got quiet confidence and you can't let him down."
Nassib truly showed his fiery competitiveness in this victory. In his final season on the Hill, this is his team. From the start of the 2nd half, he came out punching and never let up. Usually quarterbacks are pre-assigned as leaders, but playing the position doesn't necessarily mean you have those qualities. Just like point guards in basketball, just because you carry the ball up court doesn't equate to leadership.
But Nassib not only talks the talk, but he walks the walk. He's the leader of that offense, and proved it Saturday night with the season in the balance. The Fizz talked to Alec Lemon about Ryan's demeanor:
"When you have a quarterback that's calm in the huddle you know everyone else is calm and ready to roll, and it wasn't just that drive, you know. That whole game he was on it."
SU's key for the rest of the season is mental toughness and leadership. The Orange needs to find two more wins for bowl eligibility, and as we found out last year, there are no guarantees. In '11, the Orange handed #11-ranked WVU an unexpected thrashing at the Dome. But it was a steady 5-game slide that followed. Saturday's win in Tampa cannot set up another dreadful ending to the season. It'll take Nassib and the rest of that's locker room's leaders to keep this team focused on finishing the job.
One of The Fizz's top questions heading into the season¬†was just how much of a leader Nassib would be? A week before the opener, he told reporters the team wasn't ready. Then came SU'Äôs rocky 1-3 start. But the Orange has now won 3 of its 4 Big East games, and¬†plays a strong defensive team in Cincinnati.¬†SU didn't fair well last year against the Bear Cats. This is a much better team than the Bulls. Nassib and the offense will have to be even better to grab that 5th win.
It's clear, as the quarterback goes, so does the Orange. He proved on Saturday night he can be that strong leader who backs it up on the field. If Nassib can continue his play, and improve his red zone production, then this will be a thrilling final month. #12 has got one thing on his mind: getting the Orange to go bowling.
Posted: Brendan Glasheen
(adsbygoogle = window.adsbygoogle || []).push({});