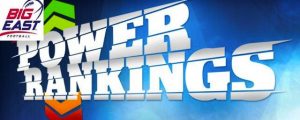 The Fizz Power Rankings return and Syracuse finds itself in the top half of the conference. With Rutgers and Louisville now the only two remaining unbeatens in the Big East, it's turning into a two-team race. Which schools can separate themselves from the bottom part of the pack down the stretch?
1)   #15 Rutgers 7-0, 4-0 (Last weekend: W, 35-10 @ Temple)
The Knights continue to roll and show the nation they are the top team in the Big East until they're knocked off. Rutgers overcame a slow start but shut out the Owls in the second half. For two straight weeks RU has struggled to get the run game going in the first half, but RB Juwan Jamison finished strong. He tallied 114 yards Р86 of those after the break. Gary Nova looked confident behind his offensive line, throwing for four touchdowns on the afternoon. This team has a real good shot at running the table in the Big East, making SU's near win in Piscataway even tougher to swallow.
Up Next: v. Kent State, Saturday
2)   #16 Louisville 7-0, 2-0 (W, 27-25 v. USF)
It never looks pretty for the Cardinals, but they seem to always get the job done. Is another QB in the conference who you'd rather have down the stretch than Teddy Bridgewater? The sophomore continues to mature, and completed a ridiculous 84% of his passes Saturday for 256 yards and 2 TD'Äôs, including the game-winner to WR Eli Rodgers with 1:35 left. As opposed to popular thinking, it looks like the Louisville offense will be carrying its D this year. The schedule provides no breaks for UofL the rest of the way though. Cincy's up next, and the de facto Big East title game will be the final weekend of the season, 11/29 against Rutgers.
Up Next: v. Cincinnati, Friday
3)   Cincinnati 5-1, 1-0 (L, 29-23 @ Toledo)
The Bearcats remain third in the rankings, but a loss to the Rockets is a big step backward with the Cardinals coming in next weekend. Toledo piled up 229 yards on the ground and tailback David Fluellen went to work against a drained Bearcats front. The junior rushed for 161 yards, and Fluellen has now racked up 666 yards in his last four games. QB Munchie Leguax threw two picks and had one returned for a TD. This D is going to have trouble next week stopping Jeremy Wright and Senorise Perry down in Louisville. In the wonderfully wacky world of Big East scheduling, Cincy has only played one league game so far – and that was its opener vs. Pitt. Every other team has had at least 3 conference games.
Up Next: @ #16 Louisville, Friday
4)   Syracuse 3-4, 2-1 (W, 40-10 v. UConn)
SU jumps all the way up to #4 in the rankings this week thanks to¬†its smack down of the Huskies inside the Dome. There's¬†something about that third Friday in October. There'Äôs not much to be upset about this win. Jerome Smith rushed for a career high 133 yards. Ryan Nassib showed poise moving the offense with ease. The Orange scored on 8 of its 12 drives. The D shut down the run game for a third consecutive week. And how about this for balance: of Syracuse'Äôs 502 total yards, 251 were through the air and 251 were on the ground. Granted this was a very ineffective UConn offense, but SU has to draw off this when it heads down to Tampa. Syracuse needs to take care of business on the road against a USF, the Orange has won back-to-back BCS games just TWICE in the last 11 years.
Up Next: @ USF, Saturday
5)   Temple 3-3, 2-1 (L, 35-10 v. #15 Rutgers)
Chris Coyer and Owls had the Knights on their heels for 30 minutes on Saturday, but couldn't sustain the pressure in the second half. It was surprising how quickly TU fell apart after halftime. But only 191 total yards on the afternoon is not how you're going to beat RU. Coyer's two second half turnovers killed the QB's confidence, especially his fumble that was picked up by Khaseem Greene and taken back to house. They'll put up a fight on the road next week against Pitt, a game I think they'll win.
Up Next: @ Pittsburgh, Saturday
6)   Pittsburgh 3-4, 0-3 (W, 20-6 @Buffalo)
It's tough to figure out this Panthers team. It was a pedestrian day for the offense against the Bulls. Ray Graham and Rushel Shell each ran in a TD, but had trouble moving the football against a 1-6 Buffalo team. The upset win over Virginia Tech seems like eons ago, and is losing its luster each week. Pitt needs a statement win inside the Big East. Temple will be a tougher test than many think.
Up Next: v. Temple, Saturday
7)   UConn 3-5, 0-3 (L, 40-10 @ Syracuse)
The Huskies continue to tumble, dropping three straight. Coach P's offense is getting more stagnant by the week, and RB Lyle McCombs looked like the wrist injury might still have been bothering him inside the Dome. UConn rushed for -6 yards as a team, and QB Chandler Whitmer couldn't move the ball effectively. It might be time for a QB change down in Storrs. Why not give last season's starter Johnny McEntee or Scott McCummings a shot? Something has to happen quickly.
Up Next: @ USF, November 3rd
8)   USF 2-5, 0-3 (L, 27-25 @ # 16 Louisville)
Five losses in a row for a fading Bulls team. After BJ Daniels led a nice fourth quarter comeback on Saturday, the D couldn't protect a late lead v. Teddy Bridgewater. And soon afterword, Daniels returned to normal form and threw a pick that ended the game. The QB has committed a turnover in six of seven contests this year. It going to be tough for this team to even hit four wins.
Up Next: v. Syracuse, Saturday
Posted: Kevin Fitzgerald
(adsbygoogle = window.adsbygoogle || []).push({});