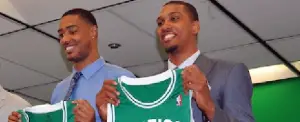 When the Boston Celtics selected Fab Melo in the first round of the NBA Draft, and Kris Joseph in the second round, everyone seemed to agree: Melo had more upside, but Joseph was far more NBA-ready.
Four months later, that sentiment remains. Joseph had to scrap to make the Celtics regular season squad, while Melo had a guaranteed contract from the start. But now that Joseph officially cracked the 15-man roster, it's the Canadian forward who will likely experience a larger taste of NBA life this season than the Brazilian center.
The Fizz was there on Saturday in Albany to watch the duo square off against the Knicks in an ugly, late-preseason battle that predictably featured a heavy dose of fringe NBA talent, and little defense.
But the game presented plenty of opportunities for the guys toward the end of the rosters. Joseph took advantage of the chance, while Melo failed to capitalize.
In 26 minutes, Kris Jo shot 4-6 from the field, scored 13 points, drew five shooting fouls, had two steals and a block on defense, and logged the second-best +/- of any player in the game (+19).
After Boston had trailed nearly the entire night, Joseph converted consecutive fast break old-fashioned three-point plays in the fourth quarter to help the C's win. He also added an exclamation point at the end of the fourth, beating everyone down the court, and emphatically slamming home an alley-oop.
Doc Rivers opened his postgame remarks by insisting that the Syracuse media in attendance ask their questions first because he was so pleased with his rookie swingman's performance.
The coach praised Joseph's ability in transition and his defense, but interestingly singled out a less-talked-about element of Joseph's game.
"One thing he has a knack for is his rebounding. It's unbelievable for his position."
At Syracuse, despite putting up prolific career totals, Joseph was known to be a reluctant playmaker, quiet scorer, and someone who let the game come to him.
Those are descriptions he's been looking to avoid in Boston.
Rivers: "It's hard to be aggressive on our team. When you're new, you look around and you see Kevin next to you and Rondo and Jeff Green and Jason Terry. You almost feel like you shouldn't be aggressive. Every new guy that's come to our team, even veterans have had that problem. And so I don't think it's a coincidence when a lot of them went off the floor, Kris Joseph got aggressive."

Joseph: "At the end of the day you gotta take your opportunities when they come."
Regarding his success on the fast break, Joseph acknowledged he's always been comfortable getting out on the run.
With a slight smirk on his face, as if he were thinking back to his high-flying exploits, Joseph said, "That's something I'm very familiar with from Syracuse."
Melo had only two points, one board, two turnovers, and played poor defense in eight minutes. He was benched by Rivers after the first quarter.
Doc was pretty matter-of-fact in summarizing Fab's situation.
"He's just young… he's (naturally) going to struggle."
Is Fab having conceptual problems?
"No, it's just basketball. He's hasn't played basketball his whole life, so he's learning in the NBA. It's not the best place to learn how to play. But he's gonna have to do that."
Meaning Fab might have to enjoy the D-League. Doc has a history of refusing to play rookies even when they do seem NBA-ready. And the Celtics have never been afraid to stash their talent in Maine with the Red Claws.
It does seem like everyone involved understands that Fab needs time to develop. Rivers said Fab has shown signs of frustration, but has exhibited a positive attitude overall.
"It's frustrating for us too at times to watch it. But then we have to remind ourselves that he's young and he's growing, and it's just a long path for him."
This is encouraging for Fab. The Syracuse community was excessively impatient with him when he struggled as a freshman, and he still managed to emerge as a stud his sophomore year. Now, he no longer has the bright spotlight examining every mistake he makes, but he still has the time and the ability to develop into a quality NBA player.
Posted: Andrew Kanell
(adsbygoogle = window.adsbygoogle || []).push({});