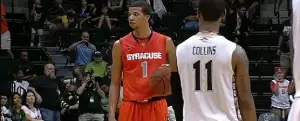 In the wake of a major change to its football program, Syracuse took care of business on the basketball court in Tampa beating USF, 55-44. While all eyes were on the news of Doug Marrone leaving for the Bills, the hoops team nabbed its second road win of the year. Jim Boeheim isn't going anywhere, and SU improved to 14-1, 2-0 in the Big East. But this wasn't entirely pretty in the newly renovated Sun Dome. Here are the quick-hitters from Sunday's game:
Syracuse finally hit the boards in Tampa. The boards have been a source of concern for the Orange this season, but SU led USF by 7 and out rebounded the Bulls by the same margin. But when the 2nd half started, the Orange went off. SU exploded for 43 total rebounds, and more on the offensive end (23) than defensive (20). A margin of 17+ boards in favor of the guys in Orange. Remarkable performance given the great athleticism of USF.
Orange Nation showed up big in Florida. There was at least 60% SU fans inside the Sun Dome. It was a great crowd for Syracuse, one Jim Boeheim even acknowledged. James Southerland admitted it felt like a home game after seeing all the orange jerseys and support. The alumni Syracuse has nationwide sometimes goes unnoticed, but a gritty Bulls squad was pushing SU and the road crowd came up clutch. It's a great reputation that'll always help the program even on the road.
Props to the USF crowd, it was electric. When I arrived a half-hour before the game, I was shocked to see "sold-out" posted on every ticket window. The Bulls crowd erupted after a trifecta of threes to begin the first half. USF played hard-nosed basketball and battled against a lengthy Syracuse bunch. You have to give credit to the fans for creating a great vibe.
SU's bigs remain MIA. Talk of Rakeem Christmas and DaJuan Coleman declaring for the draft at the end of the season needs to come to an immediate halt. Once again the bigs played small. Coleman logged just 5 minutes of play. As a freshman under Boeheim, you're simply not getting a lot of minutes. But what's up with Rak? In 22 minutes Rak had just two points and three rebounds. He did have two steals and a block, but this isn't the player we wee hoping to see. There's a big issue if your wing players, MCW and CJ Fair, are grabbing 9 and 10 rebounds respectively, while the PF is unproductive. If it's a confidence problem, then Rak needs to be sat down for a few. He's just too talented to be playing this poorly. Look for Boeheim and MCW to get him more involved offensively to get him up to speed.
Another big game from Brandon Triche.¬†He's doing it quietly, but BT put up 20 points on 8-13 shooting, to go along with 4 assists and 2 steals. He'Äôs just so calm and cool, nothing seems to faze him. He made plenty of moves to the basket Sunday: coast to coast, through the middle, pull-up jumpers, etc. He finished with the right and left no problem. Triche'Äôs play will elevate as the Big East schedule unfolds and becomes more difficult. He'Äôs a quiet piece to an important puzzle.
Southerland hits a big three to ice it. An ugly display of three-point shooting overall for the Orange (4-17), but Big Game James yet again nails the clincher to seal it. He said postgame that he knew it was coming, it was only a matter of time. An active Southerland netted 17 points 8 rebounds. He continues to be the big punch off the bench Syracuse needs heading into conference action.
Boeheim said it best: pretty arena, ugly offense. I guess you can't have it all. When asked whether he'll miss traveling to South Florida to play the Bulls, Boeheim spoke highly of the newly renovated Sun Dome. He said it was a pretty arena, and repeated what he said at the start of his post-game press conference: ugly offense. Michael Carter-Williams was 1 of 13 and CJ Fair was 5 of 14. Not pretty shooting numbers, which had Boeheim in his usual disgusted self after this one. 
The Per'fesser sheds some clarity on the departure of Marrone. Boeheim remains dedicated to Syracuse University, but did make a great point about Marrone bouncing for Buffalo.
"If he stayed and loses two years in a row, he could be fired. Can't blame him."
It's a valid point. If Marrone stuck around and things went rotten in the ACC, his stock drops big-time in the NFL. He spoke of his work with Team USA and coaching guys like Kobe Bryant, LeBron James, and Dwayne Wade. However, he joked that's not the real NBA, all of those players aren't all on the same team. He said he has never thought about leaving SU.
Providence up next. MCW looking to rebound in front of home crowd. Carter-Williams returns to the area of his high school playing days. He told The Fizz he would like to put on a show for his hometown fans, but ultimately he's more worried about the team's results. There hould be a good crowd for the highly regarded PG. Syracuse looks to improve to 3-0 in conference on Wednesday night against the Friars.
Posted: Brendan Glasheen
(adsbygoogle = window.adsbygoogle || []).push({});