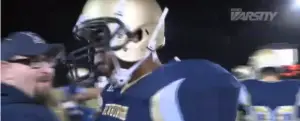 He's not your classic burner, but Jalen Williams is a force to be reckoned with in the secondary. The junior at Newburgh Free Academy (Newburgh, NY) has had an offer from Syracuse for quite some time.
The 6'1" 180 lb. strong safety is a Class of 2014 prospect. Williams holds an SU offer, as well as bids from Buffalo and UMass. The schools showing interest include Penn State, UConn, Georgia Tech, NC State, Rutgers, Maryland, and Virginia. Williams is a New York state guy with some gifted talent according to his head coach Bill Bianco:
"He's a very smart player. He understands team. He's very long, and when the ball goes up he's got some of the best hands I've seen."
Jalen also brings some versatility to the table as well. Williams plays wide receiver at Newburgh and has suited up as the back-up quarterback. This past season, Williams recorded eight pass break-ups, 56 solo tackles, and nabbed five interceptions. Bianco mentioned Williams' great awareness on the field. He's a significant piece to Newburgh's special teams' unit.
In order to ensure a strong senior stint, Bianco said Williams is putting in the extra work to gain more recognition.
"He's running track which he's never done before. He's doing it just to get faster for football. He's doing side workouts with our trainer. Then I have him a couple of times after track to do some drills. The kid is doing everything he is asked. He's a guy you can gravitate to."
The fact the Orange is giving Williams a look is thanks large in part to wide receivers coach Rob Moore. He offered Jalen the opportunity to play at SU.
"As far as Rob goes, he's a Long Island guy, when he walks into this school with his credentials, he can get the attention of any kid. And as professional of a guy he is, on top of that he's a great guy."
Now it'Äôs clear the balance in power with in-state recruits has shifted Moore'Äôs way. With Doug Marrone and John Anselmo out of the door to Buffalo, Moore'Äôs role becomes all that more important in landing future New York recruits. Bianco is entering his fifth full season at the largest school in New York's Section 9. He thinks Moore can easily re-build or re-load the SU-NY pipeline.
"When it comes to picking up where the other guys left of, it won't be long before the pipeline is up and going again. You've got to remember those guys (Marrone and Anselmo) had built some of those relationships even before they went to Syracuse."
Syracuse also has its eyes on 2014 Brooklyn star Thomas Holley, and Camillus running back Naesean Howard. Williams was a captain last season and should return as a lead man once again for Newburgh. He was First team all-defense in the region and made All State first defensive team last season. He's running track for the first time just to improve his speed on the gridiron. That 40 time could get a lot better in the next year as Williams is recruited by SU. Maybe he starts a new era of in-state pipeline to the Hill.
Posted: Brendan Glasheen
(adsbygoogle = window.adsbygoogle || []).push({});