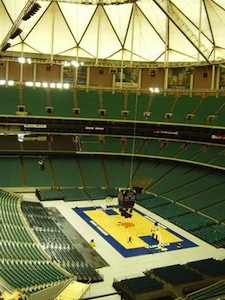 For all those hardcore basketball fans out there, there is a whole lot of speculation on how the Syracuse men'Äôs basketball team is going to fare and if whether they are going to make it to the Final Four. Before we look at some key points on what it's going to take to make it to Atlanta, remember you can participate in all the action and excitement from your end by placing a wager on NCAA basketball. NCAA being the National Collegiate Athletic Association, you can enter the fun, adrenaline jungle through a reliable and excellent portal,¬†
www.wageronsports.com.
How has the team been faring? Before losing to Georgetown at the Carrier Dome, SU knocked off Providence on February 20th. The Orange beat PC 84 to 59, with James Southerland scoring 20 points and Michael Carter-Williams scoring 15 points with 8 assists. Syracuse had won 38 consecutive home games, Division I's longest active streak, until the Hoyas loss. SU had moved into a tie with No. 11 Georgetown and Marquette atop the conference standings before that game. These were the observations of John Kekis, sports writer for
 AP
. Syracuse had sold a record number of tickets for Saturday'Äôs game against long time rival Georgetown, but it wasn't enough for the Orange.
Expectations from the team are set high and some believe in a wide-open season the Orange can make it to the Final Four. The return of DaJuan Coleman could be key, he is recovering from knee surgery that has kept him out. Carter-Williams'Äô ability to assist, score and defend is vital. In addition, super scorer Brandon Triche and the skills of C.J. Fair might be bigger parts to the puzzle than we would've expected before the season. Some fans have criticized the media for pressuring the team about Final Four expectations, but those people see potential wins for the Orange.
As spirits rise and the teams prepare to face off on the battleground, just remember you can participate in all the action and have basketball fever too!
(adsbygoogle = window.adsbygoogle || []).push({});