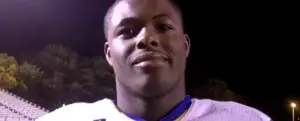 It's crunch time for Syracuse, and the final weekend before National Signing Day has already paid handsomely. SU had a handful of recruits take their official visits to the Hill, and even received a commitment from speedy Florida DB/WR Brisly Estime.
There are now 19 commits in the Class of 2013, and a source close to the situation tells The Fizz there may only be room for 2-3 more recruits. Here's the Final Four: the last wave of recruits who visited SU.
WR/DB Brisly Estime
3-star              5'9", 185 lbs              Atlantic HS (Delray Beach, Fl)
Watch his highlights here. Fellow Floridian and good friend Malik Brown single-handedly pitched Estime's (pronounced "Es-TEAM") game to the SU coaches within the last couple weeks. He's a bit undersized at just 5'9", but his coach at Atlantic HS, Chris Bean, loves his explosive quickness.
"He's an underrated kid nationally. I always compare him to Devin Hester, with his ability to break a game open with his returns. He's thrilled by coming to Syracuse."
Estime won his league's defensive player of the year honor, and had straight up ridiculous stats as a DB, WR and returner. He piled up four interceptions, over 300 receiving yards and four TD's through the air. He took back an amazing FIVE kick and punt returns for TDs. Syracuse finally has found its return specialist in 2013.
His story is unique, though. According to Jeff Greer of the Palm Beach Post, The Brizz committed and decommitted to Purdue in June, and the same happened in December with Iowa State. The Cyclones pulled his scholarship once he visited Western Michigan in January. According to Estime's Twitter, George McDonald and the Orange coaches¬†want him to play the slot. It'Äôs a unique get for Syracuse who could use the speed on special teams. Oh, and by the way, you have to love his¬†HS jerseys from this past year.
OLB Reggie Spearman
3-star              6'3", 225 lbs              Simeon Vocational HS (Chicago, Il)
The big LB has been all over the recruiting radar since committing to Illinois in August. Even after he pledged to the Illini, Spearman was always open to looking at other schools and taking visits. Although he is still committed to Illinois, Iowa is very high on his list. Syracuse offered Spearman just two weeks ago and it says something that the Orange convinced the pass rusher to visit just days before NSD. The new coaching staff has the Midwestern connection with Coach Scott Shafer, Chuck Bullough and Tim Lester's Western Michigan tie-ins. He is the 15th best pass rusher in the state of Illinois. The Chicago native's motor never stops, and has quick first step. Spearman could join Marqez Hodge, Josh Kirkland, and Luke Arciniega as the fourth LB commit in the 2013 class.
OT Kendall Moore
3-star              6'5", 265 lbs              Simeon Vocational HS (Chicago, Il) 
Spearman didn't come alone to SU. He brought his teammate Moore from Simeon. Moore committed to Western Michigan a couple of weeks ago, but is still taking visits. He and Spearman might become a package deal if both of their visits went well. Moore is ranked a top 20 prospect in the state of Illinois, and already has great size. Two-star commit Jonathan Burton and JuCo John Miller are the only other offensive line commits for SU.
DB Simeon Thomas
3-star              6'4", 190 lbs              Miami Carol City HS (Miami, Fl)
And last but not least is Thomas. It might only be a matter of time before the Miami native pledges to SU. He has had a great relationship with McDonald since he was a freshman in high school, and has been recruited by him for the last three years. Thomas told The Fizz how much he looks forward to the possibility of playing for McDonald, and an Orange squad that could storm the ACC as an underdog. He is a versatile player and can play corner as well as safety.
Posted: Kevin Fitzgerald
(adsbygoogle = window.adsbygoogle || []).push({});