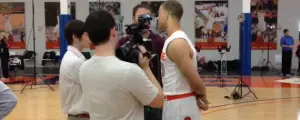 Syracuse is in the middle of a ten-day slide of of disappointment, but the Orange looks to get back on track tomorrow versus a dismal DePaul squad sitting in the basement of the Big East. Along with DePaul, the Orange has a visit to D.C. this weekend to take on the Hoyas before the regular season wraps up.
Most Orange fans are shocked at what has transpired to a team that not so long ago sat atop the Big East. This team has been lacking heart and the offensive side of the ball has been awful. Additionally, effort has been shaky with each additional loss, irking some fans including the normally raucous student section – which has had relatively lackluster attendance considering the rankings, opponents and final Big East season.
However, this can change on a dime in the magical month called March. The Orange is going to need a major spark to have a presence in the tournament. Here are some positives Orange fans can look for hope from as we wind down to March Madness.
The DePaul game: Although most Syracuse fans expect an automatic win, it is important to realize what a game like this can do for a struggling team. The Orange has not had many transition and fast break points recently which is the bread and butter of this team. A game like this can get Brandon Triche and the rest of the offensive threats putting up numbers like they had earlier in the year.
Big East Tournament: As mentioned, the heart and effort of this squad has been questioned mightily as of late. Momentum is key and a trip to the Big Apple in March might just be what the Orange need in front of thousands of alumni and fans in the final swan song at MSG. The Orange have saved its season before with a dramatic run through the conference tourney.
Past Success: The Orange have enough experience in big moments to draw from. Many of these players were part of a squad that reached the Elite 8 last year. The Louisville game in January was a clear example of converting clutch shots and forcing turnovers in crunch time. The Orange recently have been sloppy down the stretch of close games and not running plays effectively to find the open man. This lies on Michael Carter-Williams to find the open shot and get back to late game heroics.
This is the time in the season where the leaders of the team, Triche and Carter-Williams, are going to be tested. Leadership has been almost non-existent, but Jim Boeheim still has a positive view of this team. The Orange is going to have to put the past behind them and look at the upcoming few weeks if they want any shot of dancing in Atlanta.
Posted: Zephan Mayell
(adsbygoogle = window.adsbygoogle || []).push({});