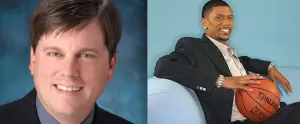 ESPN's Jalen Rose thinks Syracuse has just one one win in it, and he felt that way even before the run in Manhattan last week. Meantime, CBSsports.com's Jerry Palm sees SU dancing all the way to Atlanta. These are the drastic swings of the pendulum for Orange expectations across the nation.
SU gave its fans hope in New York City, reaching the final against Louisville. Before that SU was spiraling, needing Madison Square Garden to find some of its long lost mojo. But the Orange is a 4-seed in the NCAA brackets based on winning three games in the Big East Tourney, and will face Montana before a potential matchup with the winner of UNLV/Cal.
Just last week, the Orange hopes were as dim as the March sky in Central New York. High above court level at the Verizon Center in the regular season finale sat members of the Syracuse media watching a wretched performance.
Midway through the first half, Rose took a seat in the area and provided some insight to The Fizz on the upcoming NCAA tournament. Topics included Syracuse's chances and his picks for the teams that will make it to the Final Four. He only provided three teams: Indiana, Duke and Georgetown.
Indiana nabbed a 1-seed, while the Hoyas and Blue Devils are on the 2-line. Rose believes Syracuse win its first game, then lose in the Round of 32. He's not the only one. While SU's elevated play in the Big East Tourney helped its seeding, the second half meltdown to Louisville reminded fans how fickle this team can be.
CBS Sports's Seth Davis actually picked Montana to pull the upset in San Jose on the Selection Show. But not everyone was as down on the Orange. Palm is CBS's resident number-cruncher and bracketologist. He actually has SU knocking off the top two seeds in the region (Indiana and Miami) en route to Jim Boeheim's fourth Final Four.
The rest of CBS' college hoops panel looked at SU this way:
Gary Parrish РRound of 32: Syracuse losing to UNLV. 
Gregg Doyel РRound of 32: losing to Cal. 
Jeff Goodeman – Sweet 16: losing to Indiana
Jeff Borzello РSweet 16: losing to Indiana. 
Matt Norlander РElite 8: beating Indiana, losing to Mami. 
Jerry Palm РFinal 4: beating Indiana, and Miami. Losing to Kansas. 
Dennis Dodd РRound of 64: losing to Montana. 
Mateen Cleaves РSweet 16: losing to Indiana. 
Wally Szerbiak – Elite 8: beating NC State, losing to Miami
Pete Gillen – Elite 8: beating NC State, losing to Miami
Posted: Austin Pollack
(adsbygoogle = window.adsbygoogle || []).push({});