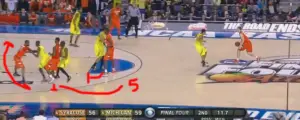 Syracuse'Äôs run to the Final Four was unexpected and there'Äôs no doubt Orange fans will look back fondly on this season as time wears on. However, right now there is sourness over a final sequence of plays that helped end SU'Äôs season. The final play, which ended in a wild, flailing attempt by Trevor Cooney, is frustrating for many reasons. After watching it a dozen times, it's still hard to find a logical explanation.
The context of the play certainly doesn't help. The ball was only in Cooney's hands because Michael Carter-Williams and Brandon Triche had fouled out. The fourth foul on Carter-Williams and the fifth foul on Triche were incorrect block/charge calls. They were not questionable. They were incorrect. This rule needs to be addressed immediately because it's ruining the game (an article for another day).
With SU's only two ball handlers on the bench, the decision-making came down to a sparingly used redshirt freshman. However, it was a decision by James Southerland that blew up the entire play.
It was designed for Southerland to come off a pair of screens from CJ Fair and Baye Keita, known as a double stack.
You can plainly see the setup as CJ Fair sets the initial screen. Southerland presumably makes a read as he takes a half-step towards the top of the key. Take note of Fair's defender in position to switch if needed. Southerland sees this and decides to reverse fields. This is where the entire thing implodes.
In live action it looks like Fair's defender isn't switching, but merely showing, meaning that James's defender still has to catch up. No matter who was going to chase Southerland there was still the Keita screen they had to deal with. It looks like if there was a switch, the new defender would wind up plowing right into Baye. At this point Cooney has already seen something he doesn't like, and has started towards the hoop.
We've gone bi-color here. Red is for the designed action, and blue is for the "WTF is going on?!" action that winds up taking place. Southerland goes on a dead sprint for the other side like he had an option over there. If Jerami Grant is waiting on the other block to screen for him, this makes sense. Since Grant's on the wing for spacing, who knows what James was thinking. As you can see in the red, Keita has set up for his part of the initial double screening action, meaning if Fair's man had switched he would have run right into Keita. Would Southerland then have been wide open at the top, just like the play was designed for?
Another subtle part of how this play is defended is the work of¬†AP Player of the Year Trey Burke. He's on Cooney and shades him right, away from the play. Maybe Cooney thought Burke was giving him too much room and he could blow by for a quick two. If that was the case, he underestimated Burke'Äôs recovery speed.
This is the money picture to illustrate "James, where are you going?!" Southerland comes to a dead stop in the lane realizing he's going to run into Cooney. Burke has cut off Cooney's lane to the rim. This is where not having Carter-Williams and Triche absolutely killed Syracuse.
If Triche hadn't fouled out he does one of two things: 1) Leans in and tries to score over Burke. His upper body strength and size advantage gives him a much better chance at success than Cooney. 2) He realizes there'Äôs still 9.7 seconds left and starts to dribble out. ¬†He likely sees a soon to be open Fair circled on the left wing with his defender looking in the wrong direction. If MCW runs the play he either tries to get to the hoop using his length to get a semi-quality shot off or his propensity to jump-pass becomes a blessing. He would'Äôve gotten airborne and his beloved cross court jump pass would have been open to Fair for a game-tying three point attempt.
When the shot is taken Fair, the only player who was great offensively for the Orange, is wide open and hopeless at the top of the key. Hardaway is in a position to recover to Fair at the wing, but with CJ relocating he would've had to do a full 180 and then sprint to close out.
Syracuse wasn't cognizant of the time left. Cooney had time to pull the ball out instead of forcing a wild shot that wouldn't even have tied the game. If he had dribbled out, Fair was ready for the jumper.
A pressing question is what was the secondary option? Cooney might'Äôve been instructed to drive if he saw Michigan switching or Burke giving him the lane. If that'Äôs the case, what Southerland did makes no sense. He should have continued and made the Wolverines switch, leaving more space for Cooney to play with underneath instead of driving into a packed lane. What more likely is a "screen the screener" play.
It's really the only thing that makes sense of what was supposed to happen. But who knows why Boeheim would then lie and say the play was designed for James.
"Screen the screener" action would account for Southerland'Äôs cut as he clears out. Fair would set a screen for Southerland (that he wouldn'Äôt use), then spin off a screen from Keita that's evolving. Fair would come off the Keita screen ready to shoot, or be covered because Michigan would have switched. This means with roughly 8 seconds to go, you have Fair iso'Äôd on Jordan Morgan. Since SU needed three, that'Äôs not ideal. But maybe he can drive and draw contact and get the ol' fashioned three. Drive and kick would also be an option.
Because the play broke down so quickly, it's very hard to decipher what was actually supposed to happen. We can definitively say a Hall of Fame coach likely didn't draw up a horrible shot for his redshirt freshman who played sparingly this season. Michigan defended it well and certainly deserves credit. But based on what we've diagrammed above, the Orange made a mistake, making the loss even harder to swallow.
Posted: Craig Hoffman
(adsbygoogle = window.adsbygoogle || []).push({});