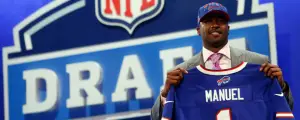 The Bills passing on Ryan Nassib is actually the best thing to happen to Syracuse football.
Well, make it the second best thing. The greatest outcome of Buffalo and Doug Marrone taking the SU quarterback in the first round last night would've been an NFL dynasty. Had Nassib guided the Bills to multiple championships and grown into a Hall of Famer, the Orange braintrust would've been hailed as heroes, and SU would've reaped the rewards.
But this being Buffalo, that was never likely to happen. So the Bills taking E.J. Manuel instead of Nassib actually helps Syracuse, because it frees Nassib from the inevitable "coddling" jab which would've followed him under Marrone.
While some have suggested Ryan's shortcomings must be really bad since even his own coach chose elsewhere, that merely becomes a footnote if he succeeds somewhere else. If he grows into a solid, dependable starting quarterback in Arizona, Oakland, Cleveland or Jacksonville, he did it on his own merit, without "Daddy Syracuse" helping him along.
Leading up to the draft, it began to sound inevitable Buffalo would take Nassib. It essentially undermined him. No one projected him as a first-rounder to the Jags. If he was going anywhere, it had to be with his old coach. And thus, because of his old coach.
See, we all know Nassib's shortcomings. We've all watched him take snaps for SU three years. No doubt his play took off this past season. He became a leader, a gun slinger, and SU was able to (gasp!) outscore opponents. But for awhile before that it got ugly. Real ugly.
Nassib's first season starting in 2010, the Orange scored 13, 14, 19, 13, 6, and 7 points in six of its final eight regular season games. In 2011, who could forget the 19-16 2OT stinker against Rutgers? Or Nassib throwing two INTs and getting sacked three times in the loss at UConn? Or the five game collapse to end the year where SU never scored more than 21 points? In that stretch Nassib threw for seven scores, but tossed five picks and was sacked 17 times.
This is not to put all of the blame on Ryan for those losses. The coaching staff never seemed to have a consistent plan, Marrone appeared far too conservative, and the defense still had to give up all those points. Nassib became a dangerous quarterback in '12, and he was saddled with an ever-changing offensive philosophy under Nate Hackett and Marrone. He threw for nearly three times the touchdowns as interceptions (70-28) in his career.
But those of us watching SU know, unlike some of the pre-draft hype, Nassib wasn't some can't miss, stud NFL prospect rifling darts and leading the Orange offense up and down the field. That some believed he is the best QB prospect in the draft says more about the class of signal-callers than his greatness.
He could very well become a legitimate starter in the league, but Buffalo's first round pick could've hung a noose around his neck. Had he gone to the Bills, after every interception or loss, critics would say he was only starting because of his coach. They would yelp that he never deserved that high pick, and was plucked like a teacher's pet because all his teachers happened to run the team.
Instead of dealing with that weekly scrutiny, he'll now be perceived as earning his way. A first-round pick has to play at some point his rookie year in the NFL. A top 10 selection usually plays by midway through the season. Was Nassib really ready for that? As a second-rounder (or later) Nassib can watch, learn and prepare. He has a sharp mind, and has proven he can absorb plenty of playbook schematics. Time will do him plenty of good. Patience with him (like not playing freshman year) will be incredibly valuable. Throwing him to the AFC East wolves this season, hand-picked by his old college coach, was a recipe for disaster.
Marrone might win in Buffalo with Manuel. Nassib may become a Pro Bowl quarterback. And if that happens, Syracuse football will warm in the afterglow. But doing it together it was less likely than doing it apart.
Posted: D.A.
(adsbygoogle = window.adsbygoogle || []).push({});