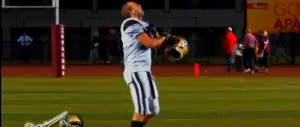 Better late than never for Syracuse commit Tyler Marona. He still had not found a place to play this fall until last week when SU gave him a long look. After reviewing an extended list of top available prospects, the Orange reached out to the 6'5" 250 lb. DE and placed an offer. The Pasadena City (CA) Community College committed to the Orange last Friday on his official visit.
Defensive line coach Tim Daout began recruiting Marona hard as soon as SU made him an offer. Marona and Scott Shafer hit it off well. and the DE gained excitement from talking about the new staff. Marona makes it 20 members for the 2013 recruiting class. He's the seventh JuCo transfer and joins Trevon Trejo as the second DE in the group. Marona played one season at Pasadena City, so he's eligible for three seasons on the Hill. Although he hoped to be at a four-year university coming out of high school, Marona tells The Fizz he's happy he played with Pasadena:
"I don't regret it. I got the chance to start. We weren't very good, but I tried to lead by action and example. It helped me grow and helped me realize it's not always going to be easy. It shows that hard work pays off."
Marona received some late interest from Miami, West Virginia and extra attention from Colorado. He had planned a visit to Boulder for this coming weekend. But Syracuse pushed last for Marona. In his lone season with Pasadena, he tallied 25 tackles, five for a loss, and two sacks in 10 games. The numbers aren't astounding, but the defensive system at Pasadena strongly resembles SU's:
"The defense we play here compares to Syracuse because it's a rotational system. I usually averaged 55 repetitions each game out of 80 total snaps. So the numbers aren't great, but I had a high motor all the time. That style allowed me to actually go 110% every play. I think I control my motor well and I have a great IQ. Here and there, I also think I have good speed off the edge."
He makes a great point. Part of the reason Syracuse's defense dominated last season was its multiple schemes and rotations. There's a reason why Shafer stopped Geno Smith three times in the last two years. Shafer delegates very specifically, especially his defensive guys. The little things key the Orange success, and those resulted in SU wins last season. Marona understands that concept already so he's got a leg up. Heading from Cali to CNY will be an adjustment, but Marona acknowledged the ACC shift and the sunnier whether down south.
"Playing in the Dome will be pretty cool. I have to say the Big East was a small conference. Now with the ACC, it sends a lot of guys to the next level. To get the chance to play against some historical powerhouses is cool. I am anxious to play in the ACC."
Marona did admit he lost track of the Orange around midseason when the team was 2-4, but watched the entire Pinstripe Bowl even with no clue of potentially playing at Syracuse:
"I twitched my eyebrows watching (Pinstripe Bowl). When the season was all said and done, I actually thought about the idea of getting a chance to play there. They play real hard. Guys like Ryan Nassib and the rest of them showed how tough they are and play every play hard."
The thought now has become reality for Marona. He's been in contact with his former conference rival, now teammate, Trejo. Both played against each other while Trejo was at Golden West. The pass rushers are pumped to get to work with one another.
Marona had just finished a workout before speaking with The Fizz. His official letter of intent is on its way, so he's been checking the mailbox every day for the last week. He's anxious to sign on the dotted line and make the cross-country trip to SU. A late addition, yes, but another quality pass rusher is on the way for Syracuse.
Posted: Brendan Glasheen
(adsbygoogle = window.adsbygoogle || []).push({});