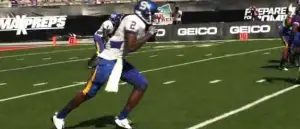 It'Äôs been a long wait for Syracuse fans, but finally wide receiver Quinta Funderburk is on the field for spring practice, healthy mentally and physically. The 6'3″, 170 lb. sophomore left Arkansas due to discomfort with team personnel and home sickness. With a full year under his belt to settle in on campus and go through off-season workouts it'Äôs no overstatement to say Funderburk should emerge as SU'Äôs go-to receiver.
Mr.'ÄúFunder and Lightning'Äù has been impressive so far at Orange spring practice. He'Äôs doing what'Äôs asked of him by the coaching staff, such as dropping weight and improving his speed.¬†The Fizz¬†wrote about Funderburk's talents a year ago. He was considered a top 25 player at his position in high school, and looking at his ridiculous high school numbers, Syracuse brought in a highly capable #1 receiver last spring:
"The Orange landed itself a wildly talented player, albeit with some baggage. He was a consensus top 50 receiver in the class of 2011, rated four-stars by Scout and three by Rivals. The 6-foot-3, 200-pound playmaker was dynamite in high school, nabbing 126 catches for 2,562 yards and 27 touchdowns his junior and senior seasons. This is the type of offensive impact Doug Marrone has been dying to add. And that's why it was a no-brainer to pursue Funderburk despite his history."
The schools that recruited him look like a BCS playoff system:
"His potential is vast. He chose Arkansas over USC, Alabama, Florida, Michigan, Penn State, Clemson, Virginia Tech, and others. He can stretch the field vertically, and give the Orange a legitimate red zone weapon. If you haven't noticed, those are elements SU severely lacks."
But Funderburk now has to prove himself in an entirely new SU offense. With George McDonald in as offensive coordinator, everyone starts at the ground floor. Although his high school numbers show promise, Funderburk is on the same level as the rest of the receiving corps. The good news is he can enter this season with a clean slate, and focus on football rather than logistics and transfer paperwork.
With Marcus Sales and Alec Lemon out the door, expectations for this year's Syracuse receivers are not very high, but Funderburk can give us some hope:
"I was waiting for my time for a long time. I'm just ready to make some plays and get on the field."
He's eager to step up and play. His natural gifts have never been a question, Funderburk is capable of top-receiver standing. Jarrod West and Jeremiah Kobena return as adequate targets. There's still a lot of promise for Ashton Broyld, but slumped big time in his freshman stint. And perhaps Ron "Sugar Bear" Thompson can become a huge TE threat for the Orange.
Funderburk is one of the biggest off-season storylines for Syracuse. He will remain so heading into the regular season, with so many expectations coming from his prodigious talent. All the receivers are on equal footing, but it'Äôs hard to ignore the intangibles "Funder & Lighting" brings to the table. If he's finally comfortable, Orange Nation should expect nothing less than a high caliber wide receiver.
Posted: Brendan Glasheen
(adsbygoogle = window.adsbygoogle || []).push({});