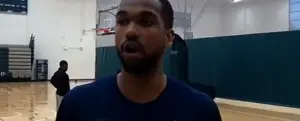 Every year, the NBA Draft has a handful of lottery picks who will be taken high in the first round. Several Syracuse greats in the last decade have been in this group, like Carmelo Anthony, Jonny Flynn, Dion Waiters and now Michael Carter-Williams.
But there have also been players like Kris Joseph, who just manage to snag one of those final picks in the second round. This year's draft is June 27 and it's very unlikely that Brandon Triche will be selected. But there is still speculation of whether teams will want James Southerland. Will Southerland find a home at the next level? 
In his four years in Syracuse, Southerland's game has improved, and he had a stellar senior year. He is a player teams can use to space the floor in the NBA, but he might not be selected.
Southerland saw less than eight minutes on the court his freshman year, but every year he was willing to play off the bench and provide minutes whenever needed. His sharp three point shooting improved annually, and was key in Syracuse'Äôs run to the Sweet 16 in '12 and Final Four this year.
He is a player who can be built up and improved for the pros. While his inconsistency is something NBA teams may worry about, when he is hot he is hot. He shot just under 40 percent from deep this past season, including a breakout game against Arkansas when he made 9-of-13 threes and had 35 points.
The role he played at Syracuse can be a similar in the NBA. He can simply come off the bench and be a go-to three point shooter. James Posey is a great example. When the Boston Celtics won the NBA title in 2008, Posey was primarily used late in games or whenever Doc Rivers needed a clutch three-pointer. Here are a few other NBA players who averaged 20 or fewer minutes per game this past season and could be the mold Southerland fits.
Steve Novak, NY (20.3 MPG, 42 percent 3PT)
Novak was the second pick in the second round of the 2006 NBA Draft. Mike Woodson used Novak this season for late-game three pointers, but he can be good when starters are in foul trouble or players are sidelined with injuries. His shot is deadly when left open, although he struggles to create his own shot or keep up with taller guards defensively.
Jimmer Fredette, SAC (14 MPG, 41.7 percent 3PT)
Fredette was a star at BYU and drafted 10th overall. He was a sharp three-point shooter in college, but has been relegated to bench duty to score 7.2 points per game. Like most role players, he's a good option to go to when starters are in foul trouble or injured. He has had a tough time creating his shot like Novak at the next level.
Roger Mason Jr., NO (17.7 MPG, 41.5 percent 3PT)
Mason is another player who doesn't start but can give valuable minutes off the bench. He was the second pick in the second round of the 2002 NBA Draft by the Chicago Bulls, and drains more than 40% of his treys.
Anthony Morrow, DAL (9.3 MPG, 37.2 percent 3PT)
The three point numbers were a little down for Morrow this past season, but in his career he is a 42 percent three-point shooter. He's bounced around in his young career, but has continually found more than 20 minutes per game until this year. He led all players in 3-point shooting percentage his rookie season.
Southerland's role is one that is unique, and combined with his height and length, that deep stroke should find its way onto an NBA roster.
Posted: Austin Pollack
(adsbygoogle = window.adsbygoogle || []).push({});