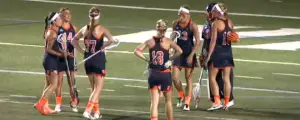 College lacrosse recognized a problem at the conclusion of last season. Both the men's and women's game needed to face reality. One changed. The other is still living a fantasy.
Syracuse lost in the National Championship Game against Duke because it fell short in a certain department. SU couldn't win a faceoff. The Orange didn't have a player to compete with Brendan Fowler, and after a year of beating the odds at midfield, the luck finally ran out. SU was never great at the faceoff X, and it's hard to beat a team like the Blue Devils who were so efficient on offense. But for a second consecutive season, the ladies lacrosse squad had another chance at a title fraudulently ripped from its grasps. Yes, again.
SU's women's team has been to four Final Four'Äôs in the last six seasons, drawn thousands of fans each time it has taken the Carrier Dome turf, and is coached by the greatest lacrosse player of all-time, Gary Gait.
Syracuse fell to top-seeded Maryland 11-10 last Friday in the semifinals. The Terps scored the game-winner with less than three minutes left in the game, promptly won the ensuing draw control, and cowardly, yet ingeniously at the same time, played keep away until the horn sounded.
The Orange had two options: A) play defensively on its heels and wait for a shot attempt that would never come from Maryland or B) commit hard checks to force a turnover, conversely be penalized with a yellow card, and play a player down (and in Friday's case, two). Those are horrible options. And you can't win with them. Shaquille O'Neil had better options for survival in Scary Movie 3.
The women's lacrosse game needs a shot clock. Maryland stalled its way to the NCAA Championship game against Syracuse just like Northwestern did a year ago in the title game. Why should the game end with three minutes still to play? Gait uttered advice after the loss the NCAA doesn't seem to understand.
"I know that our college coaches rules safety game administration committee, we've put forth a couple options [in support of a shot clock] and hopefully the NCAA committee will do something about it. I don't know how [the NCAA] makes its decision. We formed a committee as coaches, Division I, II and III, so that our opinion could be directed clearer to the [the NCAA] which does have Division I, II and III coaches on it, and hopefully they'll respect what our group wants and make a move."
He'Äôs the best lacrosse player the game has ever seen. He'Äôs been coaching in the women'Äôs game since 1994. Why won'Äôt the NCAA listen? It seems the NCAA is experimenting with rule changes: last fall season (which is like a pre-season for both men and women)¬†the NCAA implemented an 'Äúexperimental rule'Äù about player positioning on defense. If this year's experimental rule¬†isn'Äôt¬†something similar to the men'Äôs shot clock,¬†the NCAA isn'Äôt doing its job. More possessions, means more goals, and more opportunities for comebacks.
The shot clock did wonders for the men'Äôs game. Without it, perhaps Syracuse doesn'Äôt win half as many come-from-behind games as it did this season. Maybe John Desko'Äôs crew doesn'Äôt even make the Final Four. Quint Kessenich tweeted out stats comparing offensive numbers from 2012 to 2013. This season,¬†shots, goals and saves all increased.¬†According to the numbers,¬†the fastest team this season, Albany (78.58 possessions per 60 minutes of play), played faster than the fastest team last year, Georgetown (75.41 possessions per 60 minutes of play). The slowest team this year, St. Joseph's (58.50 possessions per 60 minutes of play), played faster than the slowest team last season, Hofstra (58.01 possessions per 60 minutes of play). Gait believes the women'Äôs game is ready for a change like this.
"Oh absolutely. The women's game is an incredible game, fun to watch, and I think it shouldn't be 55 minutes of great lacrosse and then keep away for the rest. I definitely think it's time for our NCAA rules committee to hopefully step up and pull the trigger and do something about it."
It is a fun game. If you like high-scoring, go watch women'Äôs lacrosse. This year'Äôs team was an offensive juggernaut. Long Island native Alyssa Murray racked up over 100 points for a second consecutive year, and after just one season freshman Kayla Treanor is nearly on pace to become SU'Äôs all-time leading scorer one day. The best part is the ladies couldn't care less about stats if it doesn'Äôt come with a National Championship.
The whole sport needs to make a shift to the men's game. One of the best players to ever come through Syracuse, Michelle Tumolo, commented after a game this season how frustratingly different the physical side of the game is compared to the men's. The women don't wear shoulder or elbow pads, and helmets. Instead, any slight stick check is an infraction and a stoppage of play.
The women's game needs a shot clock. Players want it, coaches want it, and now is the time to add one. Syracuse will be back in the Final Four very soon. And perhaps the next time the playing field will have its much needed change.
Posted: Kevin Fitzgerald
(adsbygoogle = window.adsbygoogle || []).push({});