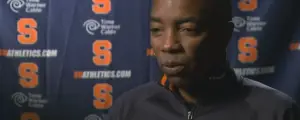 Daryl Gross speaks intelligently. I've heard him deliver his message a number of times. He came to the Hill to make Syracuse a winner. While not every hire has been a resounding success (like Greg Robinson), and the athletic department has had some choppy waters, he's helped direct SU successfully through a tough transition.
Even after eight years at Syracuse, there's still occasional rumbling that he'Äôs branding the institution all wrong, and is more sizzle than substance. But hasn'Äôt his marketing efforts worked?
SU is competing against the best programs throughout the ACC now for recruits in all sports. "New York's College Team" has helped with brand recognition. In football, Doug Marrone, Scott Shafer and George McDonald have worked hard to make it cool for in-state products to stay home. The Fizz has talked with dozens of recruits that want to personify this New York connection.
In an athletics culture dominated by practice facilities as well, Gross has made it a top priority to make sure his student-athletes have terrific resources. He built a connection with Carmelo Anthony to fund the extraordinary Melo Center. He's currently working on the financing for a state of the art football facility. The ACC is full of large state schools with seemingly unlimited funding, and Gross is making sure SU keeps up.
Many of the programs are better than when he inherited them. One of his first hires was Greg Robinson, who destroyed the name of Syracuse football, but¬†his successor is now in the NFL. And Gross'Äôs message to build the entire Syracuse athletics program as a whole is clearly evident. In '08 he gave the greatest lacrosse player of all-time, Gary Gait, a shot at coaching the Orange women'Äôs lacrosse squad. Six seasons later, SU has gone to FOUR Final Fours in that span. A couple years earlier, Gross also hired one of the best doubles tennis players of all-time. Luke Jensen took over the women'Äôs tennis squad.
Gross has also made it a priority to reconnect with former legends on the field, and bring them into the SU fold. Floyd Little is employed by the university, and is a living icon walking the halls of the Hill. Gross and the athletic department have decided to honor Don McPherson and Donovan McNabb this season. The Carmelo ceremony back in February was a huge success. Anthony and the National Championship team were in attendance for Syracuse biggest game of the regular season against Georgetown. The Fizz was inside the Dome that day. The atmosphere was electric, the ceremony was heartfelt, and all throughout the day fans battled for a nostalgic autograph from players like Craig Forth and Josh Pace. The buzz was there. These are some of the tiny elements about Gross' tenure that have paved a way for the new modern SU Athletics culture that may go unnoticed.
The success comes with the change. And from the second he arrived at SU, he had a vision for it. Syracuse athletics is surging on many fronts, and Gross has helped pave the way.
Posted: Kevin Fitzgerald
(adsbygoogle = window.adsbygoogle || []).push({});