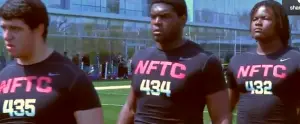 Six months ago, most colleges didn't know Thomas Holley's name. Now the 6'4" 290 lb. defensive end from Brooklyn has 23 offers to show off. Holley has received letters from schools like Notre Dame, Alabama, USC and Florida.
The Brooklyn native talked with The Fizz about his continuous wild ride through the recruiting process. For someone who didn't even take up the game of football until his junior year at Lincoln High School, he never expected this much attention.
"I didn't. Last year when I started playing football it was new to me. Some things came natural, but there were some things I still had to learn and there are things I still have to learn. Once I got out on the field I just did what I had to do, and I had a pretty good season. A lot of people told me I had a great season, and I figured [I'd get] a couple offers here and there, but I didn't think I'd be hearing from the schools I've heard from. That just exceeded my expectations. "
Syracuse was one of the first schools to come to the table and offer the New York native. But since then, Holley has amassed nearly two dozen offers. Can the Orange still play with the big dogs? Right now, the lineman is planning on taking things slow. Holley has a busy summer ahead of him.
'ÄúIt'Äôs been fun. I'Äôm learning a lot about the different schools and just taking everything in one step at a time. I'Äôm just enjoying myself right now"
His junior year is starting to come to a close, but spring practices are in full gear. Holley tells The Fizz he plans to work on his technique and conditioning as he prepares for a highly scrutinized senior campaign at Lincoln. The last time Syracuse went after a five-star recruit from Lincoln HS, it didn't end well. Ishaq Williams ended up at Notre Dame and Doug Marrone lost out on another prized jewel from NYC.
Holley could be a different story. He tells The Fizz defensive coordinator Chuck Bullough was at Lincoln HS two weeks ago to watch his practice, and he also had a great chat with Scott Shafer just a few weeks ago. Shafer's biggest sell is going to have to be that defensive passion.
This summer Holley will be competing at a two national camps: The Opening, (6/30-7/3) at the Nike headquarters in Oregon, and The Rivals Top 100 Five Star Challenge (6/22-6/24) in Atlanta. Holley will also be planning some unofficial visits. He doesn't know yet when he will making a visit up to the Hill. His main focus over the next few months is to simply improve.
"I just want to go out there and compete and enjoy the different competition. That's my biggest thing, I just want to learn from [different players]. My main goal is to get 100 times better than I am now, so by the time the season rolls around, I'll be as dominant as can be. I just want to go to Yankee Stadium and reclaim that [PSAL] title."
With Holley smashing through offensive lines in 2013, that's certainly a viable possibility.
Posted: Kevin Fitzgerald
(adsbygoogle = window.adsbygoogle || []).push({});