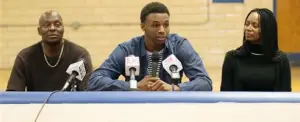 Five-star phenom Andrew Wiggins committed to Kansas yesterday and has been called the most dominant high school player since LeBron James. The 6'Äô7'Äù superstar was on Syracuse'Äôs radar last fall, but the Orange never even offered a scholarship to the Huntington Prep small forward.¬†Why didn't Jim Boeheim didn'Äôt make a hard push at the nation'Äôs top hoops recruit?
SU and Duke were two of a handful premier schools to not offer Wiggins. His decision came down to the Jayhawks, Florida State, UNC, Kentucky and Ohio State. Wiggins told Rivals.com he can now exhale.
'ÄúIt's just a weight lifted off my shoulders. I can relax now. The anticipation is over for everybody else. I was thinking a lot today about what I was going to say and how I was going to approach it. I just followed my heart. Kansas had my heart, so that's where I wanted to go. I just felt like that was the right place for me.'Äù
The Jayhawks seem to have been on Wiggins'Äô mind from the very beginning of his recruiting brigade, but why did the Orange back off on the star forward? SU's recent basketball success and¬†NCAA tourney runs¬†has the program looking as flashy as ever to recruits. Syracuse is now a consistent entrant into preseason top 10 lists, and have made an Elite 8 and Final Four the last two years. To not even offer Wiggins must mean Boeheim and company thought there was absolutely no shot to land him.
A Toronto native, Wiggins provides a familiar recruiting nugget since SU is a short drive from Canada. Andy Rautins, Kris Joseph, and the most recent superstar commit Tyler Ennis, all were drawn to Syracuse from north of the border. But that connection obviously never made an impact on the relationship between Wiggins and SU. Recruit Scoop analyst Alex Kline tells The Fizz Syracuse was always on the outside looking in.
"Never had a shot. They have not been on his list in the longest time. [Syracuse] probably realized the odds were stacked against them. Would've been worth the risk, though, high reward."
Syracuse was all in on Ennis to bolster much-needed guard depth. Ennis was SU'Äôs top priority last summer, especially when Rick Pitino and Louisville almost slipped in and snagged the five-star PG. Syracuse's full attention has been on Ennis, and maybe that factored in. Boeheim has said that¬†SU "needs" Ennis for the coming season, especially now that¬†Michael Carter-Williams has declared for the NBA draft. SU's focus was on Ennis, and it paid off. Wiggins is also considered a lock to be one-and-done, and while the Orange made a hard push for Nerlens Noel last year, maybe the early signs he wasn't interested meant it was easy for SU to allocate resources to longer term solutions.
Kansas'Äô recruiting class is eye-popping. Kentucky is always considered the top-dog in the recruiting battle,¬†especially after landing Nerlens Noel last year¬†and¬†Dakari Johnson this season. However, the Jayhawks landed the top-prize in Wiggins, and then some. According to Rivals,¬†Kansas commits Wayne Selden¬†(No. 12 overall) and center Joel Embiid (No. 25) are also five-star prospects. Add highly touted four-stars Brannen Greene (No. 29) and Conner Frankamp (No. 34), and it's good for the nation's second best behind the Wildcats.
The bright side is Wiggins stays out of the ACC, where the Noles and Heels were pushing hard. While the Orange wasn't a finalist for him, the fact it was in the discussion at one point during Wiggins'Äô process shows how far this program has come in the past few years.
Posted: Brendan Glasheen
(adsbygoogle = window.adsbygoogle || []).push({});