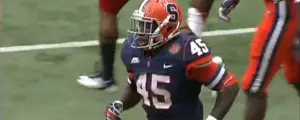 While Syracuse's offense will have plenty of question marks under center, the backfield looks like it could be the dominant dynamic of the attack for years. The Orange will have to break in a first-year quarterback. Whether that's Drew Allen, Terrel Hunt, or someone else, SU will undoubtedly see some growing pains from the pocket.
But the running back situation just keeps getting better. Let's start with senior Prince Tyson Gulley, who rumbled for over 800 yards last year and 9 touchdowns. He capped that campaign off with over 200-yards in the snow at the Pinstripe Bowl, in an epic postseason performance. Then there's young George Morris III, who is poised to finally contribute and be the big-play threat he brought with him from a sensational high school career. He red-shirted last year, so GM3 has four years of productivity at SU left.
Ashton Broyld will be utilized in some capacity, probably in the slot and out of the backfield. He's only a sophomore. Devante McFarlane is also a redshirt freshman. He's been talked about as switching to DB perhaps, but he's still listed as a RB by SU Athletics. And then there's Jerome Smith, who has been granted a red-shirt year by the NCAA.
The hulking 6'0″, 217-pound bulldozer pummeled defenses for over 1,100 yards and had four straight 100-yard games at the end of last season. He played in only two games as a freshman before injuring his shoulder. The NCAA is granting him a full season of eligibility, so Romey has one more year left after this.
That means in '14, Smith is a senior, Broyld is a junior, GM3 and McFarlane are sophomores.
Watch out ACC. You'll be getting a heavy dose of Orange on the ground over the next few years.
Posted: D.A.
(adsbygoogle = window.adsbygoogle || []).push({});