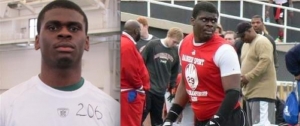 Fizz Radio is back with a new episode (which airs live every week at 9a on the Score 1260). It might be the start of the summer, but there's plenty going on around Syracuse athletics.
Brendan Glasheen hits on:
Syracuse men's lacrosse reaching the national championship game. Although the loss to Duke was tough to swallow, SU turned in an impressive season. The historical run continues with the Orange getting back to yet another Final Four.
Ron "Sugar Bear" Thompson has been converted from tight end to defense (at least for the moment). Why all of a sudden the move of a 4-star recruit to the defensive line by Scott Shafer?
The Orange is just three months away from its first football season in the ACC. What are the three keys to grabbing a winning season in '13?
The Pitino family continues to battle Syracuse on the recruiting front. It's usually Rick, but for the first time now it's Richard. Rick's son is the head coach at Minnesota is trying to lure one of SU's targets to the Twin Cities.
Football recruiting update: Could a top-flight wide receiver from Florida finally be SU's "big fish" for the '14 recruiting class?
Listen to Fizz Radio every Saturday at 9a on the Score 1260 and thescore1260.com.
(adsbygoogle = window.adsbygoogle || []).push({});